How do you make something lame cool?
Hawkeye is lame. The world knows it. There are whole tropes about his lameness. No one should be surprised by this. Originally conceived as Marvel's version of Green Arrow, poor Clint didn't really have a chance.
Enter Matt Fraction and his take on Hawkeye. In this story, Clint is an experienced hero, a man struggling to find his place in a world where whe he is a second string hero on a team of superheroes. He lives in the poor section of town, in an attempt not to be recognized.
The first story of the collection sets up Clint as a man who, like the Green Arrow before him, looks out for the little guy. In his attempt to deal with a corrupt landlord, Clint ends up rescuing a dog and buying an apartment building. The next story show us how Clint knows he's lame, with Kate Bishop ribbing Clint about trick arrows. This merges beautifully with a fight later on in the story.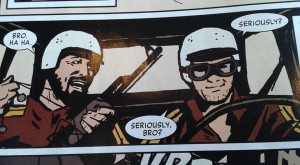 The third story focuses on Clint's past as an operative. The final story is a Kate Bishop story from the Young Avengers book where Clint is a secondary character.
Fraction clearly knows his main character is perceived as lame and has injected his stories with a good dose of humour to deal with this. And for the most part, it works.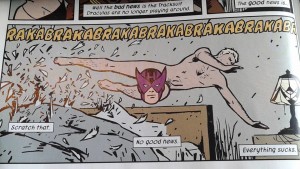 Clint knows he's a second tier hero and is doing his best with it. Stories are fast paced, full of fights, action sequences, quips and solid characterization. Through most of the book, Clint is a mentor to Kate and that lends a nice bit of back and forth between the two, growing both characters.
Solid outing. Enough to bring me back for more.