The Selection is a distopian YA series about a young woman named America Singer who is chosen to be one of the candidates to marry the Crown Prince of Illea.  The whole process is televsed to distract the populace from the two seperate nsurrections that are gong on. Thnk The Bachelor meets Cnderella meets the Hunger Games.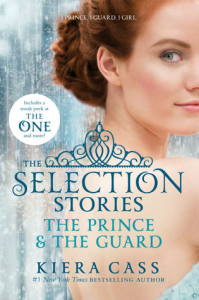 This is a collection of two short stories, The Prince and The Guard, which retell select sections from The Selection series. The book also includes the family trees of our three main characters and a Q&A wth author Kiera Cass.
The Prince
This short story shows us Prince Maxon's thougths at the beginnng of the process.  It was nice to see his insecurity and his attracton to America's independent nature.  We also get to see his thought process for cutting certain women the first night and their reaction.  There is, of course, more confimation at that King Clarkson is abusive and controlling and that Queen Amberly is passive.
Not bad, but I would have liked more of Maxon's journey, whch is neat given he is as tapped by the process as the women.
The Guard
This short story looks at the revelaton of Marlee and Carter's romance and the subsequent caning that follows, all from Aspen's eyes.  We see his  desperation to hold on to America in the face of the Selection.  We get to see the palace staff's reaction to America's attempt to intervene in the caning and their growng admiration of her.
While I valued that last part, we did get to see some of that with America's maids in the book.  What I would have liked is the story of Aspen and Lucy's romance. How does Aspen go from being in love with the fiery, strong America to marrying the shy, damaged Lucy.  What did he see in her that he needed?
The Rest
The interview was nice, and the families trees provided context. Illera is not that old a nation, leading to its instability.  Also, I learned that America is half-Jewish, something that is never touched on in the series.  What a missed opportunity to see how relgion was or was not co-opted by the regime.
Overall, this book is for the fans of the series, not the casual reader.
2.5 out of 5 Revolutions