It's time to play the music 
It's time to light the lights
It's time to reveal the story list for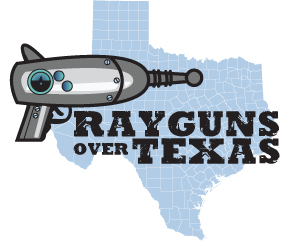 After an exhaustive search, here is the final list of the 19 short stories that will be included in Rayguns Over Texas. All but two of them are originals. The completed book will also include a history of Texas science fiction and a guide to Texas sf writers.
"Pet Rock" by Sanford Allen
"Defenders of Beeman County" by Aaron Allston
"TimeOut" by Neal Barret, Jr.
"Babylon Moon" by Matthew Bey
"Sovereign Wealth" by Chris N. Brown
"La Bamba Boulevard" by Bradley Denton
"The Atmosphere Man" by Nicky Drayden
"Operators Are Standing By" by Rhonda Eudaly
"Take a Left at the Cretaceous" by Mark Finn
"Grey Goo and You" by Derek Austin Johnson
"Rex" by Joe R. Lansdale
"Texas Died for Somebody's Sins But Not Mine" by Stina Leicht
"Jump the Black" by  Marshall Ryan Maresca
"An Afternoon's Nap, or; Five Hundred Years Ahead" by Aurelia Hadley Mohl
"The Nostalgia Differential" by Michael Moorcock
"Novel Properties of Certain Complex Alkaloids" by Lawrence Person
"The Chambered Eye" by Jessica Reisman
"Avoiding the Cold War" by Josh Rountree
"The Art of Absence" by Don Webb
Rayguns Over Texas, an anthology of original science fiction by TX authors, is scheduled for release at LoneStarCon 3 (aka the 2013 Science Fiction Worldcon in San Antonio, TX).