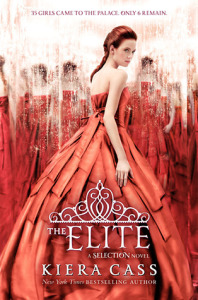 Imagine a distopian future world where North America where your birth determined your job.  It is a society divided into clases, with each class only allowed to do certain jobs.  Over all of them sit the Ones, the royal family that rules the land.  And every generation, the next Queen is chosen from the people through a process known as "The Selection", a televised competition where one representative is chosen from each province to compete for the Crown Prince's hand.  Did we mention that not everyone is happy about the situation and that rebels routinely attack the palace while this whole thing is goin on?
Sounds like The Bachelor meets Cinderella meets The Hunger Games, doesn't it?
Enter into this world America Singer, a lowley Five from a family of artisits.  At te end of the first book, The Selection,  she has somehow made it past the initial 35 candidates to the Elite stage to be one of the final six competitors for the Prince's hand.  She entered the competition on a dare and stayed only because her family gets a payment for every week she is in the competition.  America, or Mer, as she's known to her friends, came into the competition in love with another boy, a Six named Aspen, but she finds herself drawn to Prince Maxon with each passing day.  Can she make a choice?
This is the second book in the Selection series, and while the first one was a hard to put own, this installment is mostly just America feeling closer to Maxon, but then something happens that distances them from each other. Usually it's Maxon going on a date with another Elite, or America feeling a pull towards her former love, Aspen, who is convieniently a guard at the palace.  There is also the problem of suspending your disbelief long enough to believe that the all powerful King Clarkson, who can have anyone killed at a whim, is weak enough to allow for repeated (and I mean repeated) attacks on the palace.
Still, author Kiera Cass has created a solid teen romance that appeals to the YA crowd. If you look on line, you will see Team Maxon and Team Aspen camps with members  fiercly loyal to each camp.  So she has succeded in keeping her audience happy, although this feels like a filler book because YA series need to at least be trilogies now a days.
3 out of 5 Revolutions.