Jenna Bush over at Legion of Leia posted the following photo on Facebook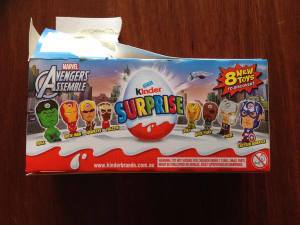 And rightly pointed out that there were no female superheroes in the selection.  And she is right.  Black Widow and Captain Marvel are nowhere to be found.  Looks like another case of gender steretyping in toys.
A quick Google search brought me to the Grocery Gems blog from England that had this photo: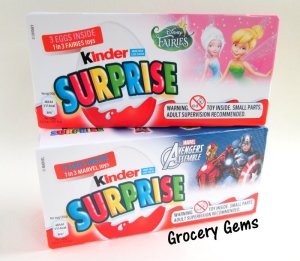 It appears that the braintrusts and Kinder and Disney have decided to release boys and girls versions of this toy.  The girls are supposed to want the Fairies toys, the boys the Avengers. Which is sad, because there are boy characters in the fairies series.  Even if only girls are fans, they actually might want to play with the boy characters.  There might even be boy fans.   But like with the Avengers, the assumprion is that these are single gender toys.
This is further evidence of the rampant gender stereotyping that takes place in our toy ailses. From colour choices to situations, toy manufacturers are dividing our boys and girls worlds into two relms that never cross.
Which is sad. We know gender is not binary, but instead a spectrum.  Why do we insist that our toys be binary?  And don't tell me it boils down to economics. There are plenty of young women out there who love comics and have money to spend on merch. Give them the opportunity.  Same goes for boys who love princesses and fairies.
It's 2015, it's time for us to walk away from the Victorian gender roles.