Quote:
You can keep asking questions. As long as you understand you may not like the answers.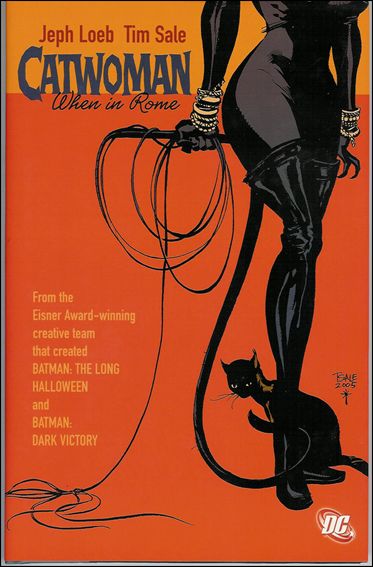 This book collects the six issue mini-series of the same name and tells the story of the investigations of Catwoman when she disappeared from Gotham as mentioned in The Long Halloween. The book is by Jeph Loeb and Tim Sale the creative team behind DC's The Long Halloween, Dark Victory, Superman for all Seasons and Marvel's colour series: Daredevil: Yellow, Spider-man: Blue, Hulk: Gray and a book that sadly looks like it won't be coming out now Captain America: White.
The story finds Catwoman in Rome looking for evidence to prove whether or not her father is Gotham crime boss Carmine Falcone. Accompanied by Edward Nigma and a mafia hitman minder, Christopher "The Blond" Castillo, she soon finds herself having to steal the Mafia equivalent of the one ring from the Vatican. In her travels echoes of Gotham travel with her as a mafia boss is murdered with the Joker's poison; she finds herself under attack from Mr Freeze's gun and the villainess Cheetah who seems to have followed her from Gotham. And what is the meaning of the strange dreams she has of Batman that haunt her throughout the trip.
The partnership of Loeb and Sale has produced some great series, as listed above. This one is a reasonable effort but I think it suffers from being an afterthought to a subplot in The Long Halloween. If I had re-read The Long Halloween before reading this one then I might have felt differently but I don't think there is enough plot of substance here for a casual reader, or even a fan of Catwoman herself, who had not read the previous series. If you are a fan of Sale's art then it is worth having a look for that reason – there are some very nice examples including the wonderful covers (based on the work of René Gruau) to the original mini-series.