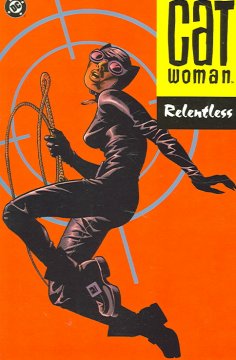 Another title that I am joining in a middle of a run – this collection collects Catwoman #12-19. It is also another story written by Ed Brubaker – almost seems like he has an exclusivity clause with my local library.
In the first half of the book, a psychotic crime boss in the east end of Gotham, Black Mask (a Batman villain that I am not familiar with), is plotting revenge on Catwoman for the theft of a diamond shipment. In the course of this revenge he is aided by an old friend of Selina's from her youth in the street gangs in Gotham. He also entices Selina's sister and her husband to Gotham and kidnaps and tortures them. The second half of the book deals with the aftermath of the ending of the Black Mask's scheme and the psychological damage it has inflicted on all concerned.
Brubaker introduces me to a very different Catwoman than the one that I am used to seeing. Gone is the lone cat burglar of old to be replaced with a much more social group of supporting characters – a necessary move if trying to sustain the interest in a character over the course of an ongoing series. Selina is portrayed more as a minor crime fighter and benefactor to the east end of Gotham where she grew up and is suffering from deprivation and neglect. She is seen using the funds gained from the diamonds stolen from Black Mask to build a new community centre and apparently confirming an agreement with the Batman not to be involved in major theft.
The book was enjoyable but probably would have benefited from having read the earlier issues that introduce her social circle and the events leading up to the Black Mask's revenge. The book had a noir-ish feel to it – possibly because one of the supporting characters is a private detective – that was well suited to the streets of the east end of Gotham. I have the next volume from the library but will probably look out for the earlier volumes also – especially if they were written by Brubaker.