"Hey! You broke your glass! Y'got blood all over your hands …"

"I shouldn't worry yourself about it, Frank. I'm sure it won't be the last."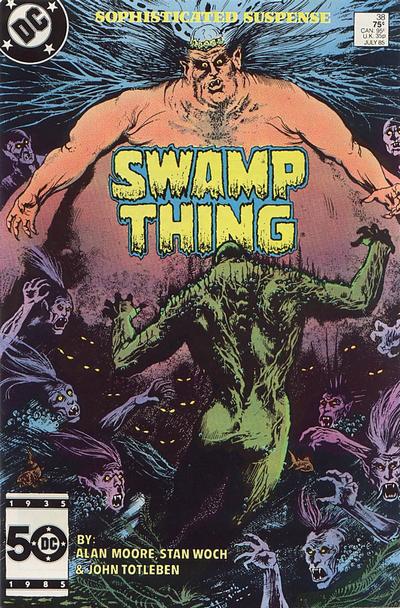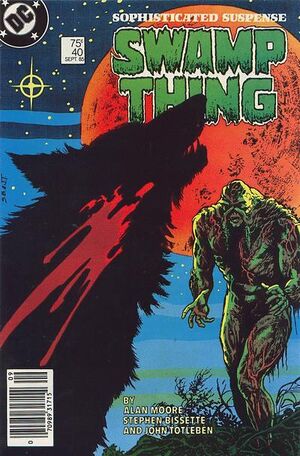 Issues 38 and 39 see Swamp Thing head out of Louisiana following Constantine's directions to meet him in Rosewood, Illinois. This town was completely submerged by the actions of Swamp Thing to destroy creatures overwhelming the town. Unfortunately not all the creatures were destroyed and now a race of aquatic vampires are preying on visitors to the site and planning the evolution of their species at the expense of humanity.
The confidence of Constantine is brought to the fore as he stands toe-to-toe with Swamp Thing gambling that his supposed knowledge and Swamp Thing's curiosity to learn more of his abilities will outweigh SwampThing's desire to put a fist through his face. By the end of the story line Swamp Thing has learned that he can move across the country through the green, regenerate within minutes and can extend his influence beyond his normal frame to include the surrounding landscape.
All of these are learned despite Constantine rather because of him and so issue 40 sees Swamp Thing and Abby discussing Constantine and how much they distrust him. However Swamp Thing still goes off to the next appointed meeting place in Kennescook, Maine. Here he finds a werewolf running wild in the town and attempts to save her and prevent her injuring the people around her. Constantine does not turn up until the drama has played itself out and finds Swamp Thing in a belligerent mood refusing to follow Constantine's directions and return home only to find that the trickster was ready for him all along.
These issues contain some great writing from Moore and an imaginative use of some of horror's well used characters and tying them into small town American life and history. The tension between Constantine and Swamp Thing is well played with Constantine managing to stay one step ahead of Swamp Thing at all times.