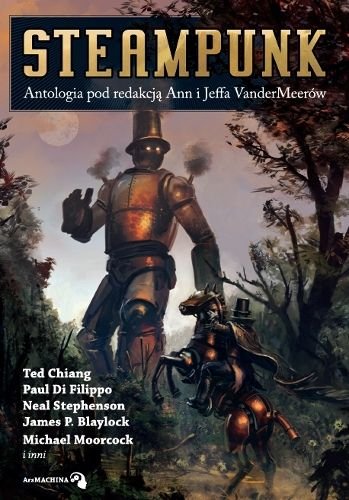 While doing my weekly search for online mentions of Tachyon books, I ran across a review of the Polish edition of Ann & Jeff VanderMeer's Steampunk. While reviewer Anna Siemomysła at Ziarno Myśli, czyli wynurzenia Siemomysły didn't care much for the book ("an anthology of 'Steampunk' is a good compendium of the mainstream, but in my opinion, unfortunately this is not a collection of good literature"), she made special mention of my contribution.
After twelve texts we receive are two articles (by Rick Klaw and Bill Baker), from which we can learn about the fact that steampunk is not just literature. Such pop compendium of knowledge about what and how and where to look. Rick Klaw recalls, for example, about our native Retrostacji what I personally introduced a state of national pride;)
(All translations courtesy of Google.)
For those that don't have their copy of Steampunk handy (or *gasp* don't own a copy), here's the mention that got Siemomysła excited.
The English language version of the Polish site Retrostacji, Steampunkopedia (steampunk.republika.pl) offers the most comprehensive steampunk works chronological bibliography available on the web along with numerous links to steampunk-inspired videos. Sadly, the site stopped updating in February, 2007.
While the Polish edition sports a great cover, obviously inspired by Joe R. Lansdale's contribution "The Steam Man of the Prairie and the Dark Rider Get Down," Joe is not mentioned on the cover. Weird.