After two successful years, the Other Worlds Austin scifi film festival returns this Thursday, December 1st, in new digs (Flix Brewhouse) and with an additional day. The now four day event has grown to include 18 full length films, a slew of of shorts, and an appearance by B-movie legend Sybil Danning, the late Dan O'Bannon's wife Diane O'Bannon, and others. Not terribly surprising to anyone who regularly follows my writings, I'm covering the event.
Here's what to expect at Other Worlds Austin 2016.
Sunday, December 4
12:20 PM SCIFI SHORTS 2 – TOMORROW'S HEARTS BROKEN TODAY
Stripes (Texas Premiere)
Tibo Pinsard | France | 4 min
Writer: Tibo Pinsard
Another first date gets hijacked by two people unable to get past their own masks.
Memoir (Texas Premiere)
Alexander Jeffery | USA | 17 min
Writer: Paul Petersen
Dr. Theodore Maine is on the cusp of losing his job at Janus Labs where he is developing research for Alzheimer's treatment, until a mysterious child arrives to change his future forever.
RAE (Texas Premiere)
Aaron Rovner | USA | 13 min
Writer: Aaron Rovner
When an office robot gives a co-worker a friendly gift, the fragile balance between the employees in the office is pushed to a tipping point.
Una Mujer Sin Precio 1961 [A Priceless Woman]
(Texas Premiere)
Juan F. Moctezuma II | Mexico | 15 min
Writer:  Juan F. Moctezuma II
When a perfectionist scientist loses his wife to a car accident, he builds a robotic version to replace her, in this newly restored classic from the missing genre trailblazer, presented by documentarian Alaric Rocha.
Auden Bui | Canada | 16 min
Writer: Auden Bui
Sent to shut down a floating film archive orbiting high above Earth, a bureaucrat meets an android caretaker whose love of film makes him almost more human than his counterpart.
Beautiful Dreamer
David Gaddie | USA | 26 min
Writers: David Gaddie, Steven Kelleher, & Ken Liu
Facing a terminal disease, a mother uses space travel and relativity to stretch her last two years over the lifetime of her baby daughter, building a relationship despite the longing and estrangement that mark seeing each other only once every seven years.
Valentin Hitz | Austria | 96 min
Writer: Valentin Hitz
Cast:  Clemens Schick, Lena Lauzemis, Daniel Olbrychski, & Marion Mitterhammer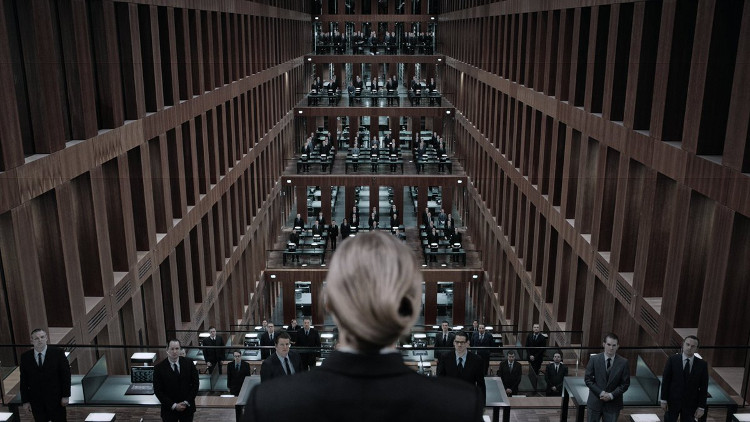 With powerful companies running the Vienna of the not too distant future, only the privileged elite can afford death insurance. The rest suffer their corpses to be used long after their passing in life-support farms, until their debts are paid. When Insurance agent Vincent Baumann goes undercover to 'sell' activist Lisa Sokulowa on his services, he discovers a brewing revolution that may be worth cashing in his own policy.