Let's take a quick look to see what's arrived at the Geek Compound.
by Jason M. Hough
Promo copy:
Jason M. Hough's pulse-pounding debut combines the drama, swagger, and vivid characters of Joss Whedon's Firefly with the talent of sci-fi author John Scalzi.
In the mid-23rd century, Darwin, Australia, stands as the last human city on Earth. The world has succumbed to an alien plague, with most of the population transformed into mindless, savage creatures. The planet's refugees flock to Darwin, where a space elevator—created by the architects of this apocalypse, the Builders—emits a plague-suppressing aura.
Skyler Luiken has a rare immunity to the plague. Backed by an international crew of fellow "immunes," he leads missions into the dangerous wasteland beyond the aura's edge to find the resources Darwin needs to stave off collapse. But when the Elevator starts to malfunction, Skyler is tapped—along with the brilliant scientist, Dr. Tania Sharma—to solve the mystery of the failing alien technology and save the ragged remnants of humanity.
Promo copy:
When three young teenagers are granted extraordinary powers, enabling them to transform into virtual superheroes, they're charged with the task of defending our world from the encroaching powers of the evil mutant known as Grimlord. Join Ryan Steele and his best friends, Kaitlin Star and J.B. Reese as they battle the virtual horde as the VR Troopers!
The exciting second season begins here with the first 20 episodes!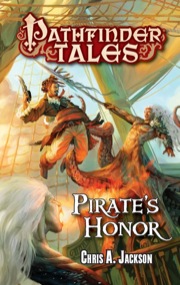 by Chris A. Jackson
Cover by Denman Rooke
Promo copy:
Rough Seas
A pirate captain of the Inner Sea, Torius Vin makes a living raiding wealthy merchant ships with his crew of loyal buccaneers. Few things matter more to Captain Torius than ill-gotten gold—but one of those is Celeste, his beautiful snake-bodied navigator. When a crafty courtesan offers the pirate crew a chance at the heist of a lifetime, it's time for both man and naga to hoist the black flag and lead the Stargazer's crew to fame and fortune. But will stealing the legendary Star of Thumen chart the corsairs a course to untold riches—or send them all to a watery grave?
From award-winning author Chris A. Jackson comes a fantastical new adventure of high-seas combat and romance set in the award-winning world of the Pathfinder Roleplaying Game.