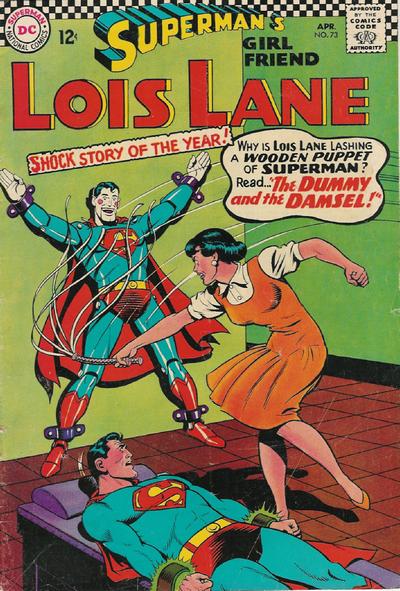 I've been reading Grant Morrison's interesting treatise on super hero comics Supergods when I ran across his reference to the infamous cover of Superman's Girlfriend Lois Lane #73.
The kind of behavior this primed young boys to expect from their own future girlfriends was more obscene than the blow jobs, boob jobs, and anal entry they now expect as a result of boring old Internet porn. Superman was educating a generation of sadomasochistic swingers with tastes trending beyond the outré.
This immediately recalled my own grandfather's work with similar images featuring the ideal 1950s girl-next-store Bettie Page donning a whip. Course none of Irving Klaw's photos and short films contained a man of steel (though that probably featured prominently with many of the viewers) nor any men at all.
Makes me wonder if the editor of the Superman titles Mort Weisinger, who designed all the covers for his artists (Kurt Schaffenberger in this case), was another comics professional who frequented Movie Star News. Thanks to Blake Bell's extraordinary retrospective Strange and Stranger: The World of Steve Ditko, I learned that the Spider-man creator (along with Al Williamson) visited the store.
The art direction, set design, lighting, characterizations, plotlines and dialog of movies had been a strong influence on comic-book artists from the beginning, and with its many theaters and ready access to research material, Manhattan was a movie haven. One of the most popular haunts for acquiring 8X10-inch movie still photos was Irving Klaw's Movie Star News on 18th Street.

"Al Williamson once said he always ran into Ditko at Irving's," says artist Batton Lash.
My grandfather died in 1966 believing he was the victim of a decade-long witch hunt. The fact that this cover, which appeared a year after his death, caused nary a public outcry might very well support this supposition. Or could it be that he helped to usher in a new morality?