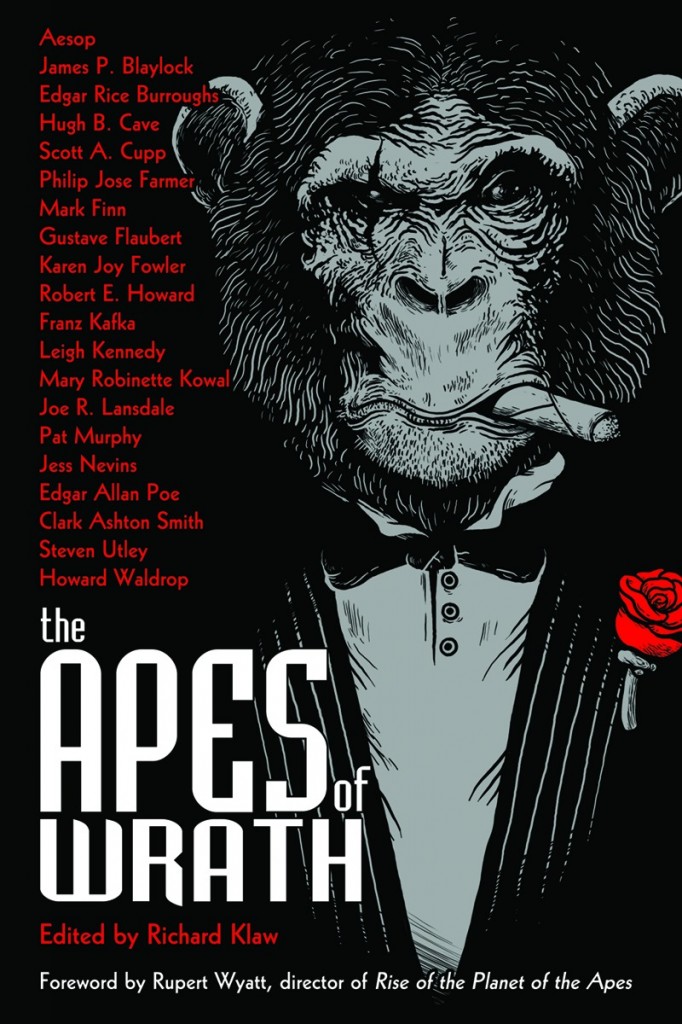 The esteemed Library Journal reviewed The Apes of Wrath in their March 15 issue.
The Apes of Wrath. Tachyon. Mar. 2013. 384p.
ed. by Richard Klaw. ISBN 9781616960858. pap. $15.95. FANTASY

Bringing together such classic writers such as Gustav Flaubert ("Quidquid Volueris"), Edgar Allan Poe ("The Murders in the Rue Morgue"), Edgar Rice Burroughs ("Tarzan's First Love"), Franz Kafka ("A Report to an Academy"), and Robert E. Howard ("Red Shadows") with modern fantasy and horror authors, editor Klaw, co-owner of Mojo Press, a noted publisher of graphic novels and themed anthologies, has assembled a collection of 13 stories revolving around the great apes and playing upon their similarities to and differences from humans. Including James P. Blaylock's steampunk comedy of errors ("The Ape-Box Affair") featuring a space-traveling ape, several bumbling Londoners, and a mysterious silver box or two, and Philip Jose Farmer's continuation of a classic ape story ("After King Kong Fell"), this volume attests to literature and film's fascination with our primate cousins. The foreward by Rupert Wyatt, director of Rise of the Planet of the Apes, and a pair of essays by Jess Nevins ("Apes in Literature") and Rick Klaw ("Gorilla of Your Dreams: A Brief History of Simian Cinema") make this more than just a curious short-story collection. VERDICT Aficionados of apes in literature and film should enjoy this gathering of new and old stories.
Overall a good review. But why do people have some much trouble spelling "foreword?" Continue reading →