As many of you know, I'm a huge baseball fan especially of the Houston Astros. But that wasn't always true. With the Astros playing the New York Yankees for spot in the World Series, I thought this would make an ideal time to share this previously unpublished essay "Thurman," which reveals my early love of the Yankees.
Honestly, I'd forgotten about this piece until my mom uncovered some of my childhood writings. Among those missives was a paper on the tragic Thurman Munson, who was one of my childhood heroes. When she told me about this, something went off in my head and I began looking through my files where I uncovered this essay written about 20 years ago (probably nearly 20 years after the one my mom found).
In the late nineties/early aughts, the burgeoning site Salon held an essay contest for writers to share tales about people who affected their life in some way. I quickly cranked out the below piece and sent it off. In my haste, I missed the fact that it must be about a living person. I did write another piece, "Michael Moorcock: No Ordinary Buckaroo." While still a quality essay, it's inferior to the emotional "Thurman." Though it met the prerequisites, the second piece didn't win, but it did eventually see publication in Geek Confidential.
So enough preamble, let's play ball!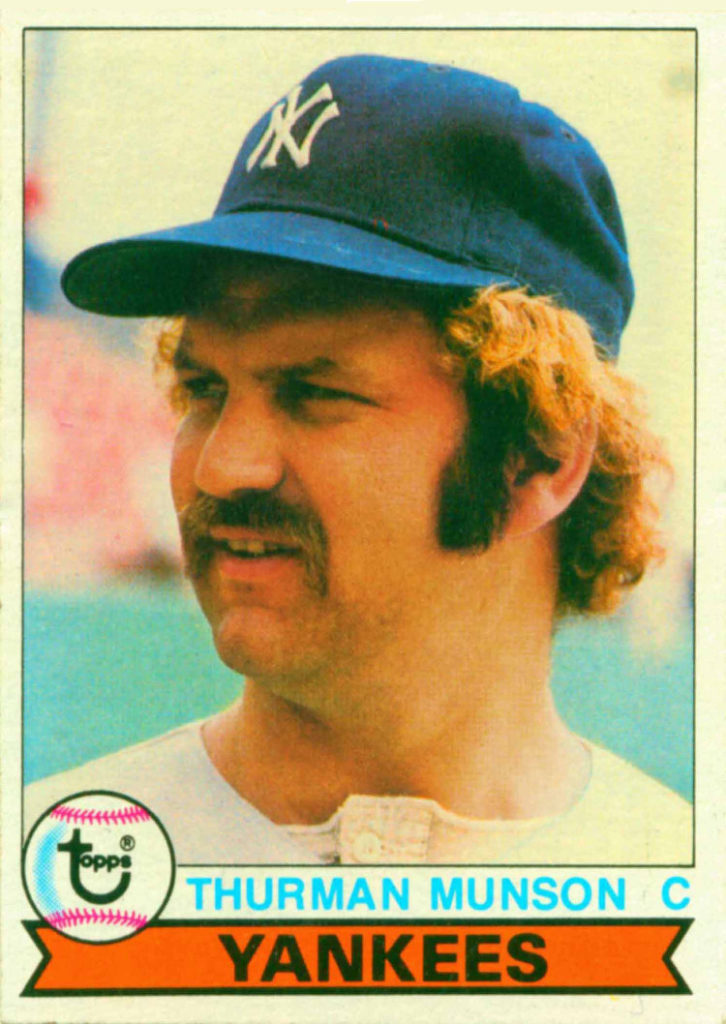 Thurman
About the only worthwhile thing I learned from my father was that it was okay for a man to cry. My folks had split by the time I was five and, like so many of my generation, I was raised without a father. It's really a sorry state of affairs for my generation, the so-called Gen X, afflicted with so many deadbeat dads. Luckily for me there was my grandfather and there was Thurman Munson.
Arguably the greatest American League catcher of the 1970's, Munson donned the mantle as the first Yankee captain named since the great Lou Gehrig's forced retirement back in 1939. A leader who won the 1976 American League Most Valuable Player while leading the fabled Yankees to their first World Series in over ten years. Sure they lost that series but then came 1977 and '78. The Yankees won those and to the boys living in New Jersey, there was no one greater than Munson. We could emulate his batting stance. We knew he learned to fly planes so he could visit his family in Ohio on off days. He was the first Yankee to win both the Rookie of the Year and MVP awards during his career. In short, he was our Superman. And for many of us, he became a surrogate father of sorts. There he was every day, playing for the team you loved. We knew all the guys in the Bronx like they were our neighbors. Reggie, Willie, Catfish, The Chicken, Louisiana Lightning, sometimes Billy, sometimes Lemon, and above all Thurman. From 1976 through 1979, I don't think I missed a Yankee game on the tube. Only school could keep me away. It was a blissful time to be a child. But then the fantasy ended.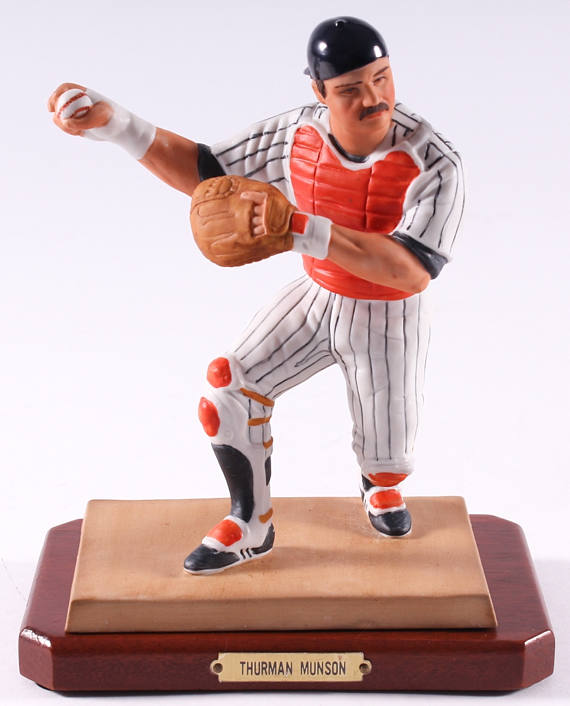 August 2, 1979, the saddest day in Yankee history since the death of the great Gehrig. It feels like it just happened. A group of us, 10-11 year old boys, were playing ball when a neighborhood kid named Patrick emerged in the park with tears in his eyes.
"Thurman." He had trouble breathing. He kept gulping for air between the tears, but he finally got it out. Thurman Munson died! We stood there stunned. Surely he was wrong. Patrick managed to tell us he saw it on the news. He went down in a plane while visiting his family. Tears welled up inside of all of us. There we were five pre-teen boys, standing in the park with our gloves and bats, bawling for our dead hero. We all cried, but not just for Munson but for losing someone we loved. Again. For some of us, it was our fathers leaving again. Here was this great man, doing the right thing, but now he was gone as well.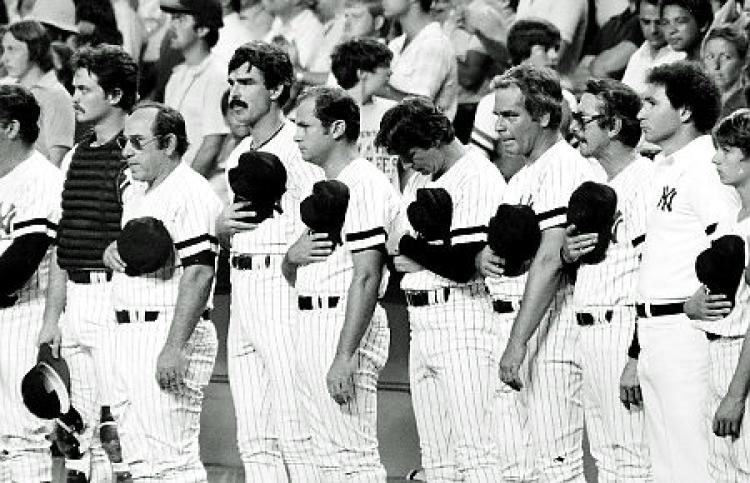 A memorial for our fallen hero occured before the scheduled national TV game with the Baltimore Orioles on August 6. To this day I have yet to see a sadder thing on TV. All the Yankees wearing black armbands, the crowd eerily silent for five full minutes, and then the kicker of them all: Reggie Jackson in tears on national TV. I cried along with him. I ceased being a Yankee fan that day, my love going down in a plane over Akron, Ohio.
Even now, the memories of that day cause a lump in my throat and bring a tear to my eye. For my thirtieth birthday, my aunt gave me a Thurman Munson statue. It was one of the most thoughtful presents I ever received. A reminder of the legacy of Thurman Munson. You must do what you can today for tomorrow may never come. And above all don't forget or forsake your family, something most of us never learned from our own fathers. A lot of boys of my generation learned that lesson that day. We are all the better for it.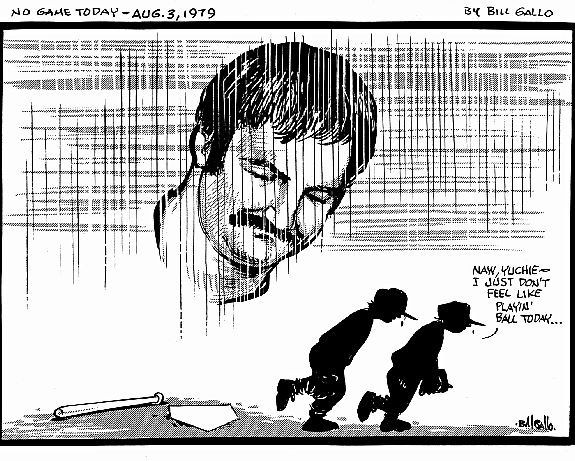 A few weeks later, we moved from Old Bridge, NJ to Houston, TX and I latched onto my new team and to perpetual heartbreak Houston Astros.