Returning for a fourth exciting year, Other Worlds Austin, one of the premier SciFi Film Festivals in the US, features some of the best and unheralded genre films. Beginning on Thursday December 7 at Flix Brewhouse, the four day event includes 16 full length films, a slew of shorts, and a screenwriting workshop. Not terribly surprising to anyone who regularly follows my writings, I'll be at there.
Here's what to expect at Other Worlds Austin 2017
Thursday December 7
7:42PM EVENT HORIZON (20TH ANNIVERSARY SCREENING) LAUNCH FILM
Paul W.S. Anderson | USA | 96min | 1997
Writer: Philip Eisner
Cast: Laurence Fishburne, Sam Neill, Kathleen Quinlan, Jason Isaacs
A rescue crew investigates a spaceship that disappeared into a black hole and has now returned…with someone or something new onboard. Twenty years ago, Paramount took us to the darkest edges of space, terrifying audiences with what has become a cult classic.  Screenwriter Philip Eisner joins us to celebrate one of the most unforgiving examples of mankind tampering with what they should not.  If 1997 was a sort of watershed year for the 2nd wave of SciFi — with THE FIFTH ELEMENT as a new take on the galaxy-building of STAR WARS, CONTACT clearly a new CLOSE ENCOUNTERS OF THE THIRD KIND — nothing captures the horrifyingly cold neutrality and danger of space first glanced at in ALIEN like EVENT HORIZON.
Friday, December 8
4:10PM FLORA (TEXAS PREMIERE)
Sasha Louis Vukovic | Canada | 104min
Writer: Sasha Louis Vukovic
Cast: Teresa Marie Doran, Sarie Mercer, Dan Lin, Caleb Noel, Miles G. Jackson, William Aaron
In the summer of 1929 -at the end of the golden age of exploration – an expedition of Ivy League University Botanists enter an uncharted forest on the North American frontier. Tasked to study the native flora, the students unearth a deadly organism and are soon in a fight with nature itself.
Pete Ohs & Andrea Sisson | USA | 91min
Writer: Pete Ohs
Cast: Julia Garner, Joseph Cross, C.S. Lee, Jillian Mayer
A guy, a girl and a robothead hike across a desert planet in search of a mythical lake. A whimsical adventure with a big heart and intimate premise, this arthouse SciFi features breathtaking cinematography and a simplicity of story seldom seen in SciFi.
7:00/7:30PM BEYOND SKYLINE (TEXAS PREMIERE)
OPENING NIGHT FILM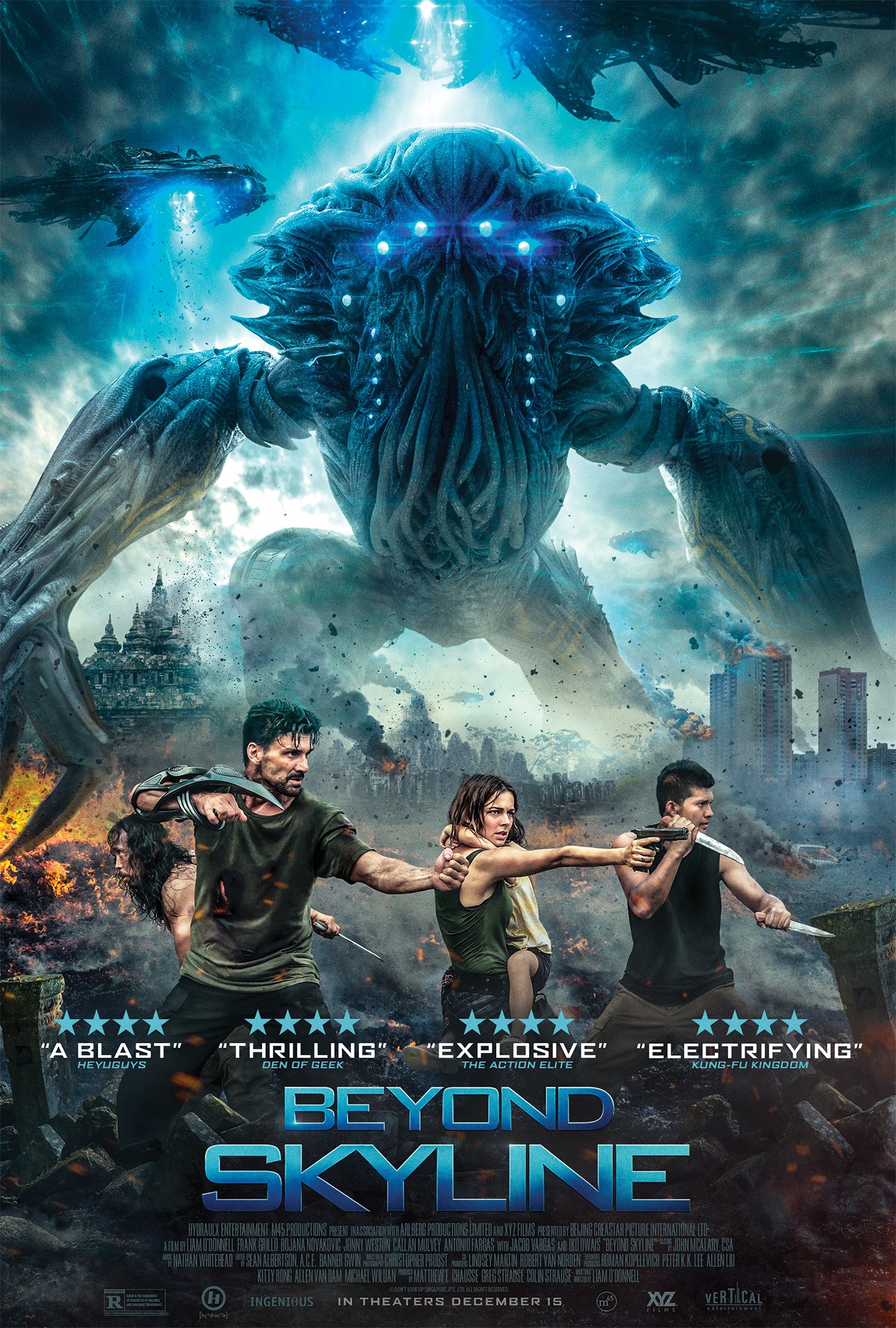 Liam O'Donnell | USA | 105 min
Writer: Liam O'Donnell
Cast: Frank Grillo, Iko Uwais, Yayan Ruhian, and Antonio Fargas
Set simultaneously during the worldwide alien invasion of the previous Skyline film, Mark, a tough-as-nails detective, embarks on a relentless pursuit to free his son, Trent, from a nightmarish warship. After the they battle their way out, they end up in Indonesia, teaming up with the local resistance who have their own unique way of fighting the intruders.  After writing the initial Skyline film, O'Donnell helms the 2nd installment an action-packed us vs. them fightfest that actually doesn't require even having seen the first film to be completely enraptured.