After two successful years, the Other Worlds Austin scifi film festival returns this Thursday, December 1st, in new digs (Flix Brewhouse) and with an additional day. The now four day event has grown to include 18 full length films, a slew of of shorts, and an appearance by B-movie legend Sybil Danning, the late Dan O'Bannon's wife Diane O'Bannon, and others. Not terribly surprising to anyone who regularly follows my writings, I'm covering the event.
Here's what to expect at Other Worlds Austin 2016.
Saturday, December 3
11:30 AM UNDER WORLDS SHORTS
Blight (US Premiere)
Briane Deane | Ireland | 15 min
Writer: Matthew Roche
A young priest travels to an isolated island community to face a dark supernatural force that has consumed a young woman.
Girl #2 (Texas Premiere)
David Jeffery | USA | 9 min
Writer: Kari Wahlgren
Even with a deranged killer running rampant inside the house, the girls still vie for leadership in the sorority.
Battledream Chronicle screens with:
Making Friends (Texas Premiere)
Kyle C. Mumford | USA | 7 min
Writer: Kyle C. Mumford 
A lonely old man needing a challenger in a game of chess, builds himself a robotic friend.
Tricia Lee | Canada | 90 min
Writer: Corey Brown
Cast: Lara Gilchrist, Benjamin Arthur, Torri Higginson, & Julian Richings
A single mother wakes up in a medical facility, mysteriously nine months pregnant, and finding everyone dead. As she struggles to escape she discovers the facility's secret, the government has tampered with boundaries no mortal should cross.  When they return, they are not alone.
Michael Cavanagh & KerstinÜbelacker  | Sweden | 70 min
For years UFO-Sweden has attempted to solve a mystery that has baffled even the government, the Ghost Rockets. In 1946, over 2000 sightings were reported of missile shaped unidentified flying objects over Sweden and neighboring countries.  Searching for proof, these life-long hobbyists commiserate and grow old together, bravely facing their continual failure by doubling down their efforts.
John Carpenter | USA | 83 min
Writers: John Carpenter & Dan O'Bannon 
Cast: Dan O'Bannon, Dre Pahich,
& Brian Narelle
On a 20-year mission destroying planets to clear a path for navigation routes, the crew of the Dark Star struggles to persuade a self-aware bomb it is time to detonate. Even the dead captain, stored in deep freeze, has little to offer in the way of advice.  Possibly the first ever stoner space comedy, DARK STAR is presented in restored HD with the original space surfer (and inventor of the San Diego Chicken), Brian Narelle, the late O'Bannon's wife Diane O'Bannon and Matt Lohr, co-author of Dan O'Bannon's Guide to Screenplay Structure in attendance.
Dark Star screens with: 
Special Forces (Texas Premiere)
Phil Bucci | USA | 10 min
Writers: Phil Bucci & Marcus Perry
A detective finds himself saddled with two not so super-powered superhero cops to save the city from a villain's sinister plot.
Roxy Shih | USA | 92 min
Writer: Ian Paxton
Cast: Anne Winters, Jessica Rothe, & Michael Nardelli
An isolated family of three young sisters live out their days in a well-stocked ranch after a pandemic has consumed most of the known world. With the youngest suffering from the first stage of illness, a passing stranger offers more than just the outside world, he offers a new outlook on life.
The Tribe screens with:
The Bench (Texas Premiere)
Summers Brothers | USA | 6 min
Writers: Summers Brothers
A random encounter on a park bench reminds that there is more than meets the eye to every eye to meet.
7:40 PM UWA CENTERPIECE: WE GO ON
Jesse Holland & Andy Mitton | USA | 90 min
Writers: Jesse Holland & Andy Mitton
Cast: Clark Freeman, Annette O'Toole, John Glover & Jay Dunn
Miles Grisson lives in fear. His trepidation prevents him from even driving a car. But armed with a large sum of money, he decides to overcome his terror, not by facing it, but by offering a reward to anyone who can prove that after we die … we go on. When Grissom narrows down his leads to the three least crazy sounding — a scientist, a medium, and a world traveler with a 'magic box' — he teams up with the unlikeliest of partners for his search, his mom. When Miles finally makes contact with a dead airline mechanic desperate to reconnect with the love of his life (who is still alive), the film treats us one of the most complete portraits of a ghost since Demi Moore spun her potter's wheel. In WE GO ON, nothing is as simple as dead and alive, haunted and exorcised, and good and bad, which makes for one of the most thought-provoking films about the afterlife in recent years.
Jesse Holland and Andy Mitton's thriller YELLOWBRICKROAD premiered at the Slamdance International Film Festival in 2010. In 2013, they contributed a segment to the horror anthology film CHILLING VISIONS: 5 SENSES OF FEAR, which premiered on Chiller TV. Mitton is a sound designer, musician, and composer, most recently writing music and lyrics for THE GIFT OF NOTHING, commissioned and produced by the Kennedy Center. Holland is a motion graphics and visual effects artist. He created all the graphics for the Jim Henson-produced show GOOD MORNING TODAY and designed international branding for such films as ARBITRAGE, and ROBOT & FRANK.
Guy-Roger Duvert | France | 92 min
Writer: Guy-Roger Duvert
Cast: Mike Dopud, Jane Badler, & Jochen Hägele
Paris 2047: Half of the population is now permanently online, living their lives in a variety of game worlds, and leaving the reality behind.  Private Investigator/Assassin-for-hire Nash finds himself employed by one of the corporations that build these virtual worlds to track down a group of terrorists who are killing the players (for real) from inside the game. When he infiltrates the terror cell, he finds that the lines between innocent and guilty are far blurrier and maybe the entire 'game' is rigged against the human population.  Cut from the same DNA as BLADE RUNNER, Duvert's film explodes with ideas, mostly about how we lose ourselves in our devices.  The terrorists in VIRTUAL REVOLUTION are like most radicals, convinced of their own nobility and willing to do whatever they find necessary to achieve their ends.  The corporations should also be recognizable as the pursuit of profit has always curbed the law somewhat, if only the moral one. Revolution is never simple.
Guy-Roger Duvert has been working as a successful film composer in Hollywood for several years, scoring several feature films and blockbusters trailers (TRANSFORMERS 3, GREEN LANTERN, PROMETHEUS). His fantasy short CASSANDRA played 82 festivals and garnered 47 awards.
Travis Milloy | USA | 103 min
Writer: Travis Milloy
Cast: Christopher Soren Kelly, Cassandra Clark & Jesse D. Arrow
A man trapped in an automated prison must outsmart his captors to find a way back to a world that may already be gone. Kept alive by a computerized jailer, his only means of psychological escape is to an imaginary coffee shop where he falls for a barista who may be imprisoned in the same loop or may not be real at all.
Jeff Maher | Canada | 85 min
Writer: Jeff Maher & Cody Calahan
Cast: Colin Price, Alyssa King, Gwen Cumyn, & Dennis Andres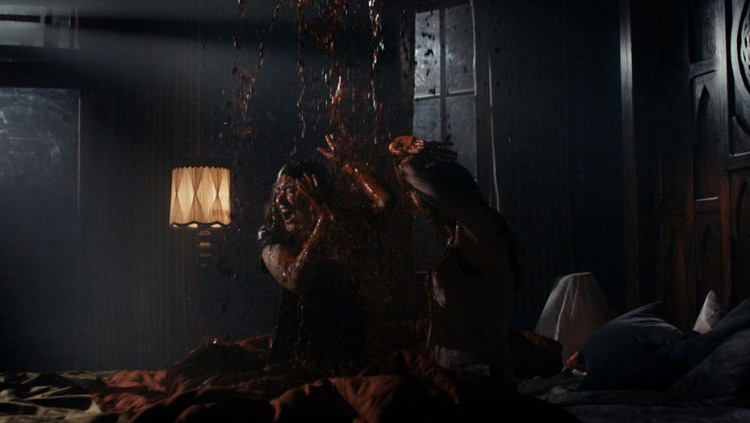 Four twentysomethings find themselves stuck on a haunted antique bed where leaving means suffering a gruesome demise. Plagued with frightening hallucinations, they must figure out the bed's secrets before they are ultimately picked off one by one. The next day, a detective tries to unravel their deaths, but a phone call from one of the victims from the night before makes him think he can prevent it all.
Bed of the Dead screens with:
Girl Ghost Getters
Sarah Adams, Maggie Rieth Austin | USA | 6 min
Writers: Sarah Adams, Maggie Rieth Austin
Maggie and Sarah host a supernatural encounters vlog, but their need to film the perfect show blurs their perception between the paranormal and… well, normal.