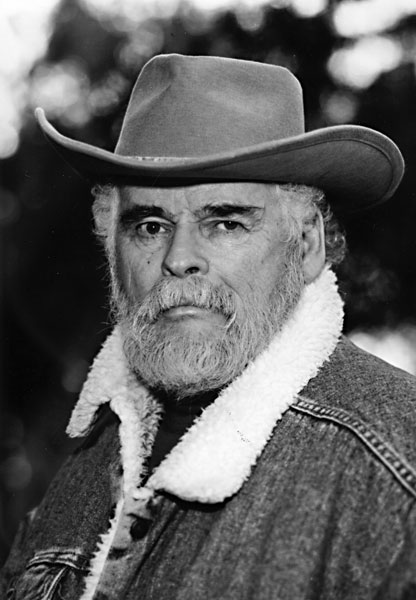 The extraordinary Neal Barrett Jr. has died.
Sadly, there's a good chance that many of you have never heard of this literary wunderkind. Neal wrote damn near everything from science fiction to fantasy to mysteries to romance to westerns and young adult. He worked in a variety of media, producing traditional books, screenplays, comics, and even Texas historical markers (Neal use to joke that they were damn heavy to carry around and show people).
Even if you never heard the name, you most likely read some of his works. Neal wrote under a variety of names:
Victor Appleton II (3 published Tom Swift, Jr. and 2 unpublished)
Steve Atley (Dungeons & Dragons: The Movie, the young adult version which was adapted by Neal from the adult novelization, published under his own name)
Chad Calhoun (The River Beauty) 
Franklin W. Dixon (2 Hardy Boys)
Rebecca Drury (Valiant Wings I have no idea what Rebecca Drury originally looked like but I'm guessing it wasn't burly, bearded, grey haired man)
Terence Duncan (Powell's Army: Missouri Woodhawks)
Wesley Ellis (9 Lone Star)
Tabor Evans (2 Long Rider)
J.D. Hardin (3 westerns all for Playboy Paperbacks)
Robert Reese (Alaskan Gold)
While all these were professional, entertaining works, it was under his own name that Neal Barrett real shined. Just about any of his nearly 30 books stand head and shoulders above most of the pablum that makes up popular fiction. Two books and two collections make for the near perfect entry into the unusual worlds of Neal Barrett, Jr.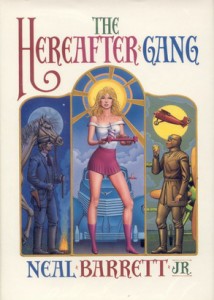 The Hereafter Gang: Perhaps the finest book of Neal's oeuvre and the best novel that almost no one has ever heard of.  A bizarre masterpiece that teaches us that heaven is in Oklahoma.
Through Darkest America: By time this beautiful apocalyptic sci-fi/westen had come out, Neal had written some 20 novels under his own name. That didn't stop it from being included as part of the Isaac Asimov Presents line that featured new writers.
Slightly Off Center: Eleven Extraordinarily Exhilarating Tales: Neal's first short story collection serves as a fantastic introduction into the varied and unusual mind of a genius.
Other Seasons: The Best of Neal Barrett, Jr.: From the title, it's self-evident. If you don't like this collection, then Barrett isn't for you.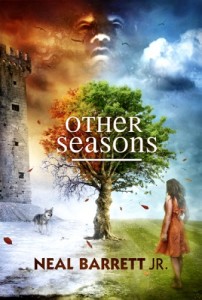 I had the opportunity to work with Neal on several occasions. His contributions litter my editing efforts. He appears in Weird Business, The Wild West Show, The Big Bigfoot Book, and several stories during my time as the fiction editor for Revolution SF (including "Prince of Christler-Coke" and "Winter on the Belle Fourche"). "Timeout," one of the last stories that Neal sold, appeared in my 2013 anthology Rayguns Over Texas. As always, I was very proud of his inclusion. He's the only writer to span the three Texas-centric SF/F anthologies.
Beyond being a superior craftsmen, Neal served as a friend and mentor to many a new writer. His influence and guidance crossed many generations of Texas fantasists. Joe R. Lansdale, Lewis Shiner, and Howard Waldrop would not have become the writers they are without Neal's stewardship. For that matter. without Neal's patience, I doubt I'd be the writer and editor I am today. In those early days, he was available for questions, tips, and always a humorous "true" tale of dubious origins (not to mention his impact on Lansdale and Shiner and their effect on my literary career). While we didn't always see eye-to-eye, my respect for Neal Barrett, Jr. never wavered.
Neal, I do hope for your sake that Heaven is a much nicer than Oklahoma. No matter where you are now, it's bound to become a more entertaining and interesting place. Lucky bastards won't even know what hit 'em.