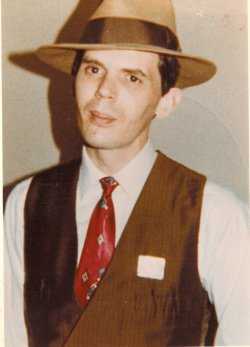 Got this via Lawrence Person:
I just received word from Jessica Reisman:

Molly let me know that Steve passed last night at about 10:40 pm, eastern. His family was with him.

I'll miss him.

As will we all.

Utley announced to his friends that he had been diagnosed with Type 4 cancer in his intestines, liver, and lungs, and a lesion on his brain on December 27, 2012. On January 7, he sent out an email saying that he was losing his motor skills and designated Jessica as his literary executor (and hopefully she'll be able to get some of his swell stories back in print). On the morning of January 12 he slipped into a coma and died that night.
I'll be honest, I didn't know Steven Utley that well. In the 90s, we really only corresponded at the annual Armadillocon and then when he moved to Tennessee in 1997, only rarely through email. What I do know is that it was always a pleasure to chat with him, good for a laugh and a piece of obscure geek trivia.
Professionally, Steve and I crossed paths numerous times. He adapted Howard Waldrop's "Green Brother" (with art by John Lucas) for my anthology Weird Business. Then later I included his one page strip collaboration with Kevin Hendrix "Custer's Last Love" for Wild West Show. Beginning with "Beyond the Sea," Utley published several stories at RevolutionSF, first with me as the editor and then with several of my successors.
In recent years, Steve has frequently been in my thoughts. When I first started putting together The Apes of Wrath, he was one of the first contributors I contacted. I wanted to include his futuristic tale of alternative education "Deviation from a Theme" for my new book. (The story also appeared in the only other ape-themed collection The Rivals of King Kong) Since Steve referred to himself as the impatient ape both in print (title of one of his short story collections) and as a part of his email address, he was not surprisingly thrilled to be part of the book. I'm just sad he didn't see the final product (book ships in two weeks). I know he'd love the book and be proud to be a part of it.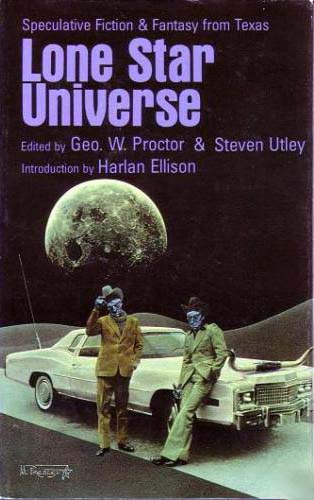 Steve alongside Geo W. Proctor edited the first all Texas science fiction anthology Lone Star Universe. Having been immersed recently in a similar project myself, I've thought much about that book. I only hope Rayguns Over Texas is similarly well received and fondly remembered.
So here's to Steven Utley, may you be happily swinging with the apes.