As part of their "In Character" series about indelible American characters, this morning's Weekend Edition offered this interesting overview on King Kong.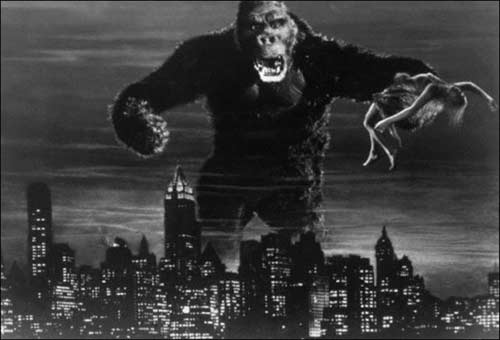 The piece begins with an interview of Kong creator Meriam C. Cooper recalling the difficulties of getting the film produced.
Quote:
But when Cooper first proposed the film in 1931, not everyone thought it was a good idea. In fact, no one was interested except David O. Selznick at RKO.

"David played one vital part. He was the only human being that backed me up 100 percent," Cooper said. "He didn't know what the hell I was doing. Everyone thought it was nuts. And everybody wanted me to put a man in a gorilla suit. And it would have been just horrible."
Course as we all know, King Kong and its amazing Willis O'Brien effects was a huge hit and actually saved RKO from bankruptcy.
The feature goes on to discuss the racism in the film.
Quote:
Cynthia Erb is the director of film studies at Wayne State University in Detroit and the author of Tracking King Kong: A Hollywood Icon in World Culture. Erb says that "most people who know the film would say to one degree or another it is a racist film. At that time in the late 20s early 30s, the jungle genre like Tarzan was very popular in film. So there were a lot of movies set in exotic locations. And the depiction of natives was often patronizing, stereotypical, racist. I think it does happen with the Skull Islanders."
Erb (which always reminds me of another ape contributor Edgar Rice Burroughs– one who was often criticized for his racism) further explains her viewpoint.
Quote:
"In my opinion, it always has this other dimension that focuses on King Kong as a victim and on the Carl Denham character as a real intruder, as a certain type who really intrudes and is very clueless about the space he is conquering. So for me that always kind of complicates the argument. There are certainly different ways of reading the film."
I do agree with her. It is a complicated issue.
The report, also, discusses the poor treatment of women as well as the sexual undercurrent throughout.
The entertaining and informative ten minute essay– interspersed with interview clips from Cooper and Fay Wray– concludes with a proclamation that I wholeheartedly agree with.
Quote:
The remakes and a raft of other minor Kong movies over the decades only serve to highlight the power of the 1933 original. For film fans everywhere, Merian Cooper's Kong will always remain the king, the Eighth Wonder of the World.