It's been forever. I know it's been forever. I've been wanting to write a review for nearly a year now, but the year has been largely frustrating. The job I was working for didn't pan out, my sister's boyfriend cheated on her (thankfully, she found someone new), a few comics that I've been wanting to review ended prematurely, and I've spent many months just working like crazy. I haven't felt so happy to just scratch this writing itch that I've holed up for so long. Let's just get to the review.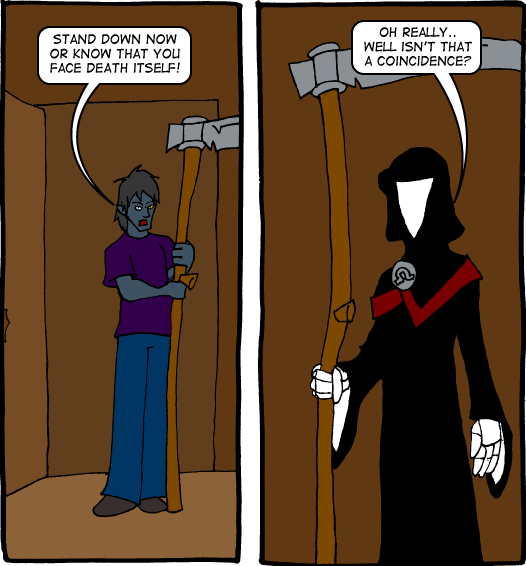 Title: Life and Death
Author: Jonathan Oliver
Start Date: 2000
Genre: Bangsian fantasy, dark comedy
Update Schedule: Mondays, Wednesdays, Fridays
Website: http://lifeanddeath.smackjeeves.com/comics
Synopsis:
After the Grim Reaper commits suicide (yes, really), Heaven holds a series of tryouts for a new Grim Reaper. The newcomer, Steve, gets the job, only to find that his best friend Bobby is his counterpart, the personification of Life. Steve settles in to his new job and lifestyle, killing mortals across the world whose time has passed, battling demons, and getting acquainted with his family and the other personifications in the universe.
Recommended Age Group: 12 and up, mainly due to occasional drug use. (Nothing beyond alcohol.)
Strengths:
The comic stays consistently funny, and even sometimes endearing. Once the story arcs begin to kick in, we get to see considerable character development and story growth for Steve as we continue to see more of his family and his past. This is one of the few comics that can introduce stronger and more serious villains without bringing down its tone. It seems to be a feat that's difficult to pull off for most stories that start bright and comical, then undergo a complete tonal shift after some time has passed. Life and Death manages to avert that trope.
Weaknesses:
The comic's art, even after 15 years, still isn't very good. Since the comic started, it has only slightly improved with the addition of color and not much else. The outlines still look very sketchy and jagged and backgrounds are often barren. From a storytelling standpoint, the comic seems to have transformed into something from what it originally started. The Life part of Life and Death seems to have faded in the background. Death has pretty much taken over as the main character as he goes on journeys with his family…an adventure which has lasted over 700 pages and counting. Most of the other characters in Heaven are so rarely seen anymore that it's easy to forget they exist.
Verdict:
I give this comic a halfhearted recommendation, much as it pains me to say it. It's a fun comic with occasional dark humor, but the story arc has lasted for so long that I wish Oliver would end it eventually and bring the comic back to its roots. There are so many characters who were introduced years ago and I'd love to see them further explored, but they're not being given enough screen time that I wonder why he created them in the first place. I really want to enjoy this comic, but I'm losing interest.