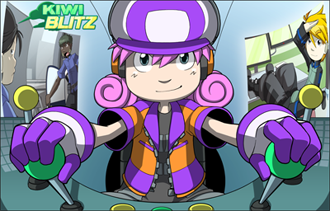 Title: Kiwi Blitz
Author: Mary Cagle
Start Date: 2009
Genre: Sci-fi, action, comedy
Update Schedule: Tuesdays, Thursdays
Website: http://www.kiwiblitz.com
Synopsis:
The comic takes place in a future where animalistic mech sports tournaments are all the rage. One pilot, Steffi Frohlich, gets bored with being stuck in the junior league (and in an embarrassing elephant robot). To celebrate her 14th birthday with a new gift she receives–a new bird robot–she decides to use her new mech to fight crime instead. Her escapades lead her to several run-ins with the police as well as the attention of two of the city's most famous criminals, Gear and the Raccoon.
Steffi's new double-life also leads to a troubling dynamic with her friends and family. While her father is perfectly okay with it, her childhood friend is reluctant to the point where he wouldn't want to be her friend anymore.
Recommended Age Group: 12 and up. There's minor blood and language.
Strengths:
All the characters are instantly likable. Everyone–main characters, secondary characters, minor characters, even the villains–is energetic and a total joy to read.
The artwork is also worth mentioning. It's gloriously drawn and rich in detail. Everything from color to lighting to even the details on background characters is very well done.
Weaknesses:
Steffi's motivation to become a crime fighter feels rather weak. She's choosing to risk her life because she's bored with doing sports? It comes off as rather selfish. I understand that the author did this to give the main character a flaw, but I feel that there could have been better ways to introduce it, especially since later circumstances (which I will not spoil) explore her flaw in greater detail.
Verdict:
I give this comic a wholehearted recommendation. It's a fun and exciting series to read with a great story and fun characters. The archive isn't very long, so you can breeze through it in an hour or two.