Star Trek: Discovery! There is a trailer, and the RevolutionSF collective watched it.  The show will air "this fall" on CBS Access if you pay them money so you can watch it. (Sidebar: It will be on CBS Access whether you pay them money or not.) 
Watch it here!
We challenged each other to review the trailer using only four words.
If anyone wrote more than four words about the trailer, we made them read the comments from men's rights activists about the trailer. That's right. ALL OF THEM. Send us yours at RevolutionSF.
Yes! Yes! Oh YES!!!! –Gary Mitchel, @Gary_Mitchel
Make bigoted nerds cry! —Tegan Hendrickson, @artful_username
Pretty trailer. Ugly Klingons. –Jayme Blaschke, @JaymeBlaschke
Those are Klingons? OK. –Sue Kisenwether, @spaltor
Exciting trailer. Ugly fandom. –Michael Falkner, @womprat99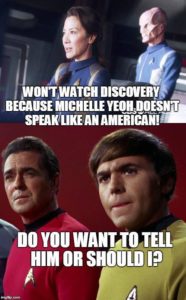 Michelle Yeoh. MICHELLE YEOH. –Van Allen Plexico, @vanallenplexico
Michelle Yeoh. Effing Finally! –Mark Finn, @FinnsWake
Passing Bechdel? Flying colors. –Sue Kisenwether, @spaltor
We have Doug Jones! –Tegan Hendrickson, @artful_username
I miss Jonathan Archer. –John S. Drew, @drewshi2000
Automatically better than Voyager. –Mark Finn, @FinnsWake