A few of us started meeting every other Friday night for RPGs in September. Our first campaign was the Wild West action game Aces & Eights. While its rules are in some places baroque, we quite enjoyed the flow of action and the unique characters generated by the rules. The campaign quickly became a fun, suspenseful tale of loyalty and danger on the frontier.
—Shane Ivey
Chronicles
The Noon Stage
Held up on a stagecoach, young Francis Thompson makes a name for himself on the Shattered Frontier. September 21, 2007.

The El Paso Kid
Down-on-his-luck cowpoke Pecos Jake befriends Francis "Face" Thompson (but not Coughing Johnny Kellerman). October 5, 2007.

Regulators
Face Thompson and Pecos Jake hire on with settlers in a range dispute, and Jake has a dispute of his own with Coughing Johnny's brother Matt. October 19, 2007.

The Midnight Raid
Face Thompson and Pecos Jake take the fight to the hostile ranch. November 2, 2007.

Face Thompson's Close Call
Antoine Beaujoureaux hires on with the settlers, and the hired men catch Apache arsonists in the act. November 16, 2007.

Black Times in Black Horse
The gunmen visit Black Horse, hoping to get some information out of the captured Indian, and get a whole lot of trouble instead. November 30, 2007.

Smilin' Stan is a Son of a Bitch
The final showdown with Cali Muñoz's cowboys. December 7, 2007.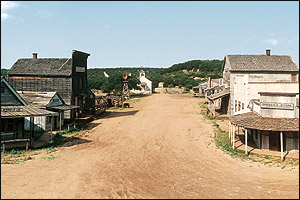 Characters
Francis "Face" Thompson
A charming, educated half-Cherokee teenager with a rich man's rig and a gold-filigreed pistol. Played by John Marron.

Pecos Jake, the El Paso Kid
A burly young cowboy with what some might call loose notions of property rights. Played by Kevin Pezzano.

Antoine Beaujoureaux
A tall, lean old French Canadian trapper seeking his fortune on the frontier. Played by Glenn Ritchie.
Rules and Downloads
Skills [PDF]
Our house rules replacing the rather arcane skill system of Aces & Eights with modified ability checks.