"A spacecraft traveling to a distant colony planet and transporting thousands of people has a malfunction in its sleep chambers. As a result, two passengers are awakened 90 years too early." So reads the official summary of this movie on IMDB. -- OK, but what sort of movie is this?

That simple question unearths the basic flaw with Passengers -- it just cant decide what sort of story it should be and in the end comes across as nothing important. It is instantly forgettable.
The trailers seem to indicate that it is a love story, and with two of the current hottest stars in Chris Pratt and Jennifer Lawrence, why not?

Except that there is a pivotal plot point that undermines the trust between the two. At this point the movie could have become a tightly excellent thriller around how two people with a strained relationship can co-exist in an environment that neither of them can escape. Yet the underlying cause of the friction and the ethics around it, while hinted at, are never fully addressed.


Pratt and Lawrence carry the first half of the movie ably, and Pratt\'s interactions with the android bar keep (played by Michael Sheen) have moments of humor. With the arrival of Laurence Fishbone as a prematurely awakened crew member, any semblance of strength, initiative, and fortitude on the part of the lead characters disappears.

From here on out we learn everything through exposition, and can\'t help but wonder why the supposedly intelligent engineer (Pratt) and journalist (Lawrence) had not figured this stuff out before, as it was painfully obvious to anyone in the audience paying even a little bit of attention.

And it gets worse, for the last act the movie moves into standard space ship-in-peril mode and delivers cliche after cliche accompanied by some troubling characterization and cringe worthy on-the-nose dialog.


You can\'t help but compare Passengers with other alone-in-space movies such as The Martian, Gravity, and Moon and it doesn't come anywhere close in terms of delivering good science, tension, empathy, or emotion. Nor did it have a point -- I do not know what this movie was actually about.
But the ship looked cool, the space vistas were impressive, and the two leads looked pretty. So I guess it had that going for it.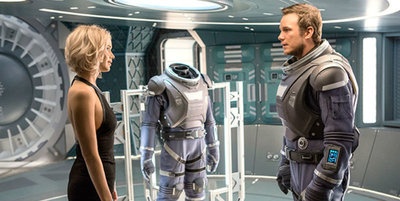 "You were great in X-Men Apocalypse."
"Quiet, I know it."