We just found the two best Christmas gifts anyone could get, a rare combination of weirdness and coloring books. Thanks to creator Odessa Begay, such a thing exists: An Edgar Allan Poe coloring book. Thanks to Sam Shearon, a Christmas coloring book that includes "Rabid Rudolph" exists. These books will make your heart grow three sizes.
From the publisher:
"Dive into the macabre, mysterious world of Edgar Allan Poe's chilling tales with popular coloring book artist Odessa Begay (Little Birds). Inspired by Poe's beloved stories, Begay has created images that reference settings, motifs, and details that fans will recognize."
I have a copy of this very book. My family has taken turns holding it. We haven't colored in it. YET. It's an excellent gift for anyone who believes Halloween should be a year-round celebration.
It may be too much fun. There is so much to do in this book that you will have plenty of time to finish it in your friend's Amontillado cask while he's doing some brickwork. Not sure why he's so anxious to get that done right now, but hey, it's his wall.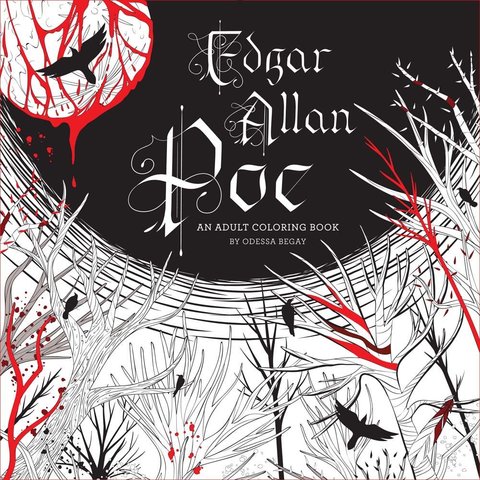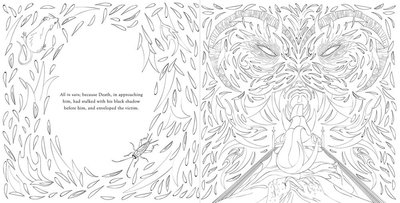 From the publisher: "The happiest time of the year is also the creepiest. Winter has an ever darker and richer lore than Halloween. For centuries, people have feared creatures from ancient legends born at this time of year . . . this festive feast of fear contains 40 original hand-drawn and inked illustrations from a variety of traditional beliefs and legends from around the world, including British, North American, Nordic, Icelandic, Austrian, and Germanic folklore."
This book is two things: a delightful coloring book, and a holiday folklore review in easily-colorable form. Four words will sell this book to you: Color Your Own Krampus. Sam Shearon's art is fanciful and weird, and I mean that as the highest compliment. like Tim Burton and Neil Gaiman and Clive Barker and Stephen King all went on a cranberry sauce and egg nog bender and this is the result.
The accompanying text pieces provide the history of the folk tales behind Krampus, the Yule Goat, mistletoe, Tomtenisse, and tons more. Shearon also gets just plain silly with "Rabid Rudolph," "Santa Claws," and "Gingerdead Men." But my favorite is "Grimace Tree."
Warning: You will need a lot of red crayons. For the blood.
Grossness and weirdness rule the holiday season in this book. Find someone gross and weird to check out this book, or just be more gross and more weird yourself. You'll be glad you did.