14 Things You Missed in Batman v Superman. #6 Will Shock You.
Number 3, 7, 12, and 13 Will Also Shock You
© Joe Crowe, @RevolutionSF
April 29, 2016

So many things were going on in BvSDoJ . Here is everything you didn't know about what you didn't know you saw, but you didn't see. #BatmanvSupermanDawnofJusticemoviereview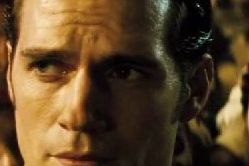 1. Batman beats up Superman, which answers the question and ends the argument for all time.
2. Lex Luthor has hair for most of the movie because they deleted the scene where his lab caught fire and Superboy tried to save him and blew his hair off.
3. Doomsday is not the Hulk. This is not the Avengers movie. The difference is sadness.
4. Robin is Batman's sidekick in all the Batman cartoons. In the comics, he grew up and took on a new name and costume as Nightwing. In this movie, his costume is in it for like three seconds because he is dead.


5. In the Supergirl TV show, Jimmy Olsen is black! But in this movie, Jimmy Olsen is in it for like three seconds and is white and dead.
6. When we see the flashback of Bruce Wayne's parents getting killed, his father is clearly the Comedian from the Watchmen.
Guys, the Comedian was totally doin' it with Batman's mom.
7. That guy you see underwater is Khal Drogo, because this movie takes place before season 1 of Game of Thrones.
8. The entire movie is Lois Lane's fantasy that she imagines while she's dancing in a strip club for rich white men in Sucker Punch 2: Assault on Assault City.


9. If you look closely during the dream sequences, you will be looking closely for about 75 minutes.
10. Actually, the smile on Wonder Woman's face in the Doomsday scene is because she loves checking email.
11. 85 percent of Lois Lane's dialogue in this movie is delivered while she is trying not to show her live-in boyfriend that she is wet and naked.
12. The old guy in the Wayne tower is very important to a subplot about boardrooms and shareholder meetings. You probably missed it. Go back and watch it again.
13. Lois teleported to lay on top of a whooped-ass Superman to tell Batman his mother's name is Martha through a Boom Tube given to her by Darkseid, which the movie did not explain because it assumed we knew that.
14. The movie didn't show Superman rescuing the lady who reached for him from on top of the flooded house, because, let's face it, she was kind of a jerk.