Book Probe finds books of geeky interest so you don't have to. Read and enjoy. Links to buy are in the titles.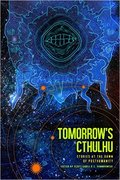 Broken Eye Books is a prolific putter-outer of nifty anthologies, including
Ghost in the Cogs
. Now
Tomorrow's Cthulhu
is a pretty good collection of Lovecraftian misery and terror. I mean that as a compliment.
The topic of the anthology is Cthulhu with futuristic and sci-fi elements. But many of the stories don't have much of that. The good parts of the anthology don't suffer because of it. It's just something I noticed a few stories in.
Those aforementioned good stories include Daria Patrie's "Tangles," a very short story about madness. Lyzz-Ayn Shaarawi's "The Crunch Underfoot" is about the aftermath of meeting something creepy. Molly Tanzer's "The Stricken" is my favorite. It's a funny story with references to the beloved Re-Animator.
As anthologies go, this one is a good value by volume. Consume it! Become one with its words.
The first two books in the Brilliance series "went there" with a capital Went There. In a setting where people with powers are hunted, the story goes all-in with government conspiracies, murder and tragedy. Written in Fire is the last of the trilogy. I would say you probably should read the first two first, so you'll know why everyone is so miserable.
It's a black-and-white hero vs. villain story, really. That is a compliment. It reminds me most of the show "24." The hero is bone weary and beaten down, and the bad guy deserves to be defeated like a pro-wrestling villain. The writer sticks the landing here, and I can't wait for his next thing.