Owning a movie theater has been made simple. Now you don't need to be named Carmike. (He is the guy who owns all the theaters, right?) All you have to do is convince its owners that you are the person for the job.
Win This
The owner of the Temple Theatre 1918 cinema in Houlton, Maine, is hosting an essay contest where the winner inherits the cinema!
Temple Theatre has run almost continuously since 1918. The three-story small-town movie theater has been modernized with cinema seating, modern digital projection and sound systems, carpeting, paint and paper. They saved original fixtures, stained glass, woodwork, the whole shebang.
How To Win
Submit a 250-word essay with the topic:
"Why would you be the best person (or family or group) to be the new owner of the Temple Theatre in historic downtown Houlton, Maine?"
Everything you need (and pictures of the swanky theater) is at the Temple Theatre contest page, right here.
Submit the essay, entry form and $100 entry fee (as a certified check or money order) with two self-addressed stamped envelopes to this address:
Temple Theatre Essay Contest
P.O. BOX 188
BELFAST, MAINE 04915
The deadline to submit is January 31, 2016.
I don't see a downside to this, except that you're out 100 bucks. But really, that's just popcorn for a family of four anytime you go to the movies already.
Now you can have your own movie popcorn. And a movie theater.
But in the interest of fairness, here are reasons you should not enter this contest:
1. You're afraid of people walking out of your movies talking about spoilers.
2. Somebody in Houlton, Maine owes you 20 bucks.
3. You are allergic to popcorn.
4. You don't know where Maine is.
5. You dislike entertainment.
Other than those, no excuses. Win yourself a theater now!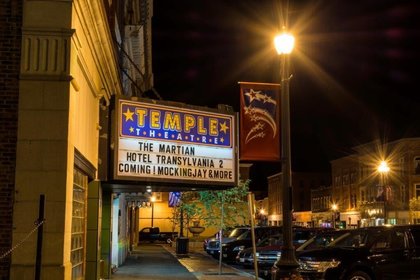 You could be watching Hotel Transylvania 2 in your own theater right now.