Book Probe finds new books in SF, fantasy and horror and assorted geeky genres. Consume at will.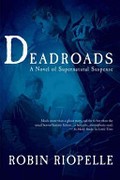 New Orleans and the bayou are prime real estate for supernatural situations; writer Robin Riopelle could have coasted on Cajun accents and food descriptions. Instead, this book is coated in atmosphere and character. Despite the spectacular setting, the cast is the best part. You can tell from dialogue and the deepness of the cast that there's a history to them; that more stories bubble under the surface. I'm anxious to see that next stuff.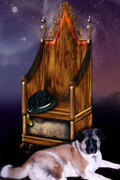 David Marshall Hunt has put together an adventure where the hero looks for his mentor. Thatís it. Thatís the whole book, but contained in that standard jumpoff point is time travel, comets and secrets.
But the story stays grounded. The hero is a professor who gets swept up in crazy stuff. Heís just a normal guy. Heís the narrator and the lead character, so as he gets swept up, the reader is swept up, too, because heís portrayed as just some regular guy, like us.
The Pilgrimage, book 2 in this series, is already out. Thatís how far behind I am in reviewing books. Itís about impending doom, which is always a good time.
The writer takes pains to present realistic depictions of non-American cultures, and that adds a real-life depth to the fantastical nature of the maguffins and happenings herein.
A dog is a major character, and he doesnít even talk or shoot a gun. Heís just a good dog. The writer owns Akitas, and his love for those animals is evident. I daresay that fans of Akitas are going to eat this thing up, preferably after they have fed their Akitas, because those guys are huge.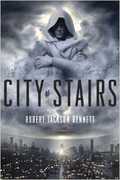 Robert Jackson Bennett creates a world influenced by European folklore but with no winks or nods to it. Heís invented his own thing, like George R.R. Martinís Westeros in Game of Thrones. Thatís the strongest part of this creation.
The city of Bulikov is a bleak ruin after mortals kill gods. Naturally, hijinks ensue at that point, as gods donít take kindly to that kind of thing. One thing that distracted me from the story is the gods are called Divinities. Divinity is a cookie. But once I got past constantly thinking about cookies, this book turned out OK.
There are zillions of book series for young-adult folks now that grown folks read, too. This is only the second book in this series, but so far so good. It's about girls in princess-fantasy schools that are related to public-domain fairy-tale and folklore characters. I love that stuff.
One goes to the good school and one to the evil one. The premise is that they end up going to the opposite schools from the ones they assumed they'd go. The second book is true to the weird nature of Grimm-style fairy tales where death and witches are around every corner, with a healthy look at friendship in there somewhere.
I'm not sold on introducing boyfriends into the mix. I'd like the series to be about girls having adventures instead of being sidetracked by boys. But then, I'm the dad of a daughter, so I'm the wrong person to ask.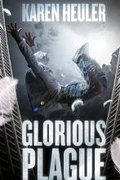 ĒI donít think you can kill an angel by throwing it off the roof. They fly, you know.Ē
A Rapture-like event happens, and those left behind have a crap-ass time of it. That sounds like lots of books from the last few years, but this book is from Permuted Press, your one-stop shop for the finest in apocalypse stories. You can order their apocalypse books by the metric ton.
The victims are happy to get apocalypsed. They dig it. Picking up the pieces afterward is the bookís storyline. Itís about making do with whatís left. Some of the characters donít end up dead or miserable. Thatís just crazy. Just crazy enough to stand out.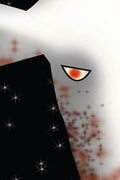 "Dr. Stevens? Yeah, we have a real situation down here."
These four words work so well together: "Zombie cow comic book."
Yet here it is. B0vine is silly and gory. The art is funny art, not Walking Dead style glorious splatterfest. But it does the trick. I'm working on a podcast interview with creator Chad Ettelbrick. When it's done I'll link it here.
But really, if you are not already sold on this by the words "zombie cow comic book," I don't know what else I can do for you.