Summer Reading: Joe R. Lansdale, Kraken Moor, Odd Men Out, Monster Earth
Reviewed by Joe Crowe, @revolutionsf, © 2013

Summer Reading's Book Probe finds books of geeky interest, so you don't have to. Links to buy are in the linkage at the title. Read! Read like the wind!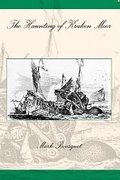 "Get food and rest," Poseidon ordered. " I will need you for the birth of a monster."
The Haunting of Kraken Moor is an adventurey thriller set in England in the 1800s. It reads like Lovecraft, at first, like other horror stories set in that era such as Pride and Prejudice. (the non-zombie version is terrifying.) I grant that putting the word "kraken" in the title sticks Lovecraft in my brain. So maybe it's not Lovecraftian, but I feel like it is.
This book started as an experiment by RevolutionSF writer Mark Bousquet on his site Atomic Anxiety. He dedicates the book to anyone who started writing a novel and never finished. Each chapter takes place in one day of story-time, and Mark wrote most of the chapters in one sitting each.
The story gets crazier as it progresses. It seems like Bousquet had one thing in mind when he started, but it spiraled. Then the story changes from a grim Lovecraft horror into a story that would be right at home in Hellboy, with gross monsters and brutal action.
The escalation into crazy is the best part. Bousquet puts himself in the story as the transcriber, in the tradition of Edgar Rice Burroughs. But Bousquet tops Burroughs by also adding his real-life dog. That is good stuff.
Find Mark Bousquet on the Twitters @mark_bousquet.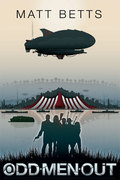 Matt Betts' book
Odd Men Out
has a ton of things that anyone of sound mind should like. It has zeppelins and zombies.
It's the Civil War, amid the struggle between the South and the damn Yankees (Northerners, not the awesome 1980s hair-metal band). But here, they fly airships and fight zombies.
Airships and zombies. This book just got bought by some of you, right then.
But if you're not convinced yet, A hero drives the Turtle, a walking robot that looks like an AT-AT.
A subplot involves capturing Godzilla-size lizards.
I get a heavy Firefly vibe from the book. The characters converse and the world is revealed through dialogue, not page after page of exposition. The tone is one of hope and promise, even amid zombies and the Civil War. You can tell as you read that the writer is telling us "All this stuff is pretty cool."
Betts' strength is in his descriptions of action. My favorite scene is when the good guys board an airship. It's laid out in vivid details, from harpooning the airship to climbing aboard using made-up gizmos that one assumes would exist in a world where airships were common.
In only 260-something pages, Matt Betts fleshes out a whole world that I want to hear more about.
Find more from Matt Betts at MattBetts.com.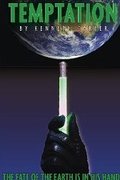 ""You took the words right out of my voice synthesizer." – Tempest
Temptation is a 1980s sci-fi movie in convenient book form.
It's about an alien thief chased by a bad guy in a starship. Naturally, they go to Earth, and naturally, they fight over a powerful object, and naturally, there's an Earthling woman along for the ride.
The book has elements of sci-fi TV and movies I've read and seen, from Star Trek to Starman. But the reason cliches are cliches is because you can do lots of stuff with them. Writer Kenneth Carter stirs up a handful of concepts and gets himself a stew going. (Disclaimer: I worked with Kenneth for years. All criticism I have of his writing pales in comparison to the horrible things we've said about each other in person.)
The story begins with a Native American elder making a prophecy. It takes multiple chapters to get to the introduction of the hero.
And when Gabriel Temptation finally appears, he flies a talking spaceship.
Yes. It's not written in a cheesy Knight Rider way. It's written in an awesome Knight Rider way.
The ship's name is Tempest, which is too close to the hero's name, Temptation. KITT's name is not Mikey.
The ship supplies punchlines, as talking spaceships must. But he also uses cuss words, which is a pleasant bonus.
The love connection between Gabriel and the Earthling is worthy of mention because it's not irritating. They talk about things other than gooey love for each other, and banter like a regular couple.
The villain is totally worthy of hatred, which is right and proper for a bad guy. I knew I'd like him when his spaceship is called a "PeaceStar." Only some jerk who is totally against peace would name his ship that.
Temptation is just fun. You'll dig it.
RevolutionSF Rating: 8 out of 10
Find Kenneth Carter on the Twitters @kcontheweb.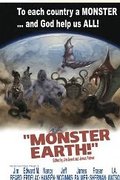 Own this book now. It is a series of short stories about Godzilla-style monsters who are used by countries to fight their wars, instead of nuclear weapons. That's what the book is about. That's all the book is about. The story is arranged time-wise, marching through the last 70 years. Each country has a different monster, and each writer has neat takes on humans' encounters with them.
There are humans in it, as I suppose there must be. Their emotions and their foibles drive the story, as they're swept along in the chaos and destruction. Some of the stories suffer from a syndrome described in the comedy band Tripod's song "King Kong," in which they sing "Get to the filking monkey." (Only they don't say filking.)
Some of the stories fail to GTTFM quickly. Most of the humans are not the most fun bunch to hang out with. There are no heroes who swagger and emit catch phrases. These are all thoughtful tales. Very few end with laughter and cheers. The body count is enormous; not just in bystanders, but in lead characters.
But when they do GTTFM, Monster Earth absolutely knocks it out of the park. Each writer nails it, differently. The action scenes are five-star smack-downs. That's when the pure joy of what the writers are doing comes out. They're writing monsters fighting each other, and it must be fun to write, because it's totally fun to read.
RevolutionSF Rating: 8 out of 10
Find Mechanoid Press on the Twitters @mechanoidpress.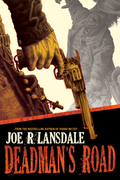 "Take this, you heavenly bastard!"
This one is a Supernatural western anthology by top-drawer writer Joe R. Lansdale. Deadman's Road is a collection starring Reverend Jedidiah Mercer, a grizzled misanthrope who fights zombies, and assorted spooks while harboring a death wish.
The stories are not at all PG-rated, and the hero is not very likeable. These are good things. The first story would be pretty much the same if it was Robert E. Howard and Conan instead of Lansdale and Mercer.
Lansdale is an engaging and funny talker in a foreword that touches on his influences from comic books, and TV. He critiques some of his own work and provides valuable writing advice. His treatise on using "said" instead of "responded" and "remarked" is a must-read. You buy the book for the cowboys and you get a writing lesson for free.
The stories range from long to short, weird to really weird, and gross to super-gross. I love the grizzle, and I dig the misanthropy.
Check out a Lansdale story, free, here on RevolutionSF.
RevolutionSF Rating: 9 out of 10