Book Probe reviews books so you don't have to.
In these days of visible monsters (the vampires of
The Vampire Diaries
, the zombies of
The Walking Dead
and Jonathan Maberry's
Rot & Ruin
trilogy, the werewolves of Maggie Stiefvater's
Wolves of Mercy Falls
trilogy) the less-visible ghost tends to get short shrift.
All those other monsters have been updated and modernized to fit into today's world, but when I think of ghost stories, I think of classics such as The Haunting of Hill House (published in 1959) or "The Beckoning Fair One" (first collected in 1911) or The Turn of the Screw (published in 1898). Ghosts are outdated. Quaint. Twee. Surely they have nothing to say to today's audience, right?
Not quite, my friends.
Take a gander at Ellen Datlow's stellar collection Hauntings and learn what being haunted really means, and how frighteningly easy it is to go from being the haunted to being the haunt.
Favorites abound in this collection, beginning with Ellen Datlow's insightful introduction. Others include David Morrell's chilling riff on the cost of revenge "Nothing Will Hurt You" and Caitlin R. Kiernan's heartbreaking "The Ammonite Violin (Murder Ballad No. 4)." There's Jonathan Carroll's "Mr. Fiddlehead," which reminds us there are things scarier than ghosts, and "Anna" by F. Paul Wilson which reminds us how scary a ghost out for revenge can be. There's Elizabeth Hand's "The Have-Nots," which points out that not all ghosts are scary.
. There are stories where horrible things happen, and stories where the horror comes from our unease and imagination. There are helpful ghosts and harmful ghosts and ghosts that might or might not be real.
Hauntings is an incredibly strong collection with stories from a veritable who's who of modern fantasy and horror: Jeffrey Ford, Lucius Shepard, James P. Blaylock, Neil Gaiman, Peter Straub, and Kelly Link. There's a wide variety of styles, but the collection holds together well.
Ghost stories are about mood and atmosphere. The best ones foster an almost inexplicable sense of unease in us. There is no better way to combat the upcoming summer heat than with a fabulous collection of chills.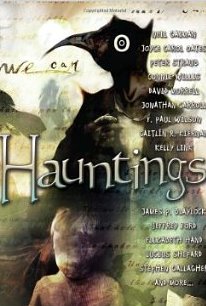 Cornelia Funke's Fearless
Fearless
continues the fantasy series
Mirrorworld
, and amps up the stakes. Now Jacob Reckless has to find a magical item or die. Naturally, a cackling bad guy stands in his way.
The book gets automatic points for including a double-page map. Maps are essential in fantasy books. Even if the characters never go to the places on it, a map shows that the writer puts an extra smattering of thought into their story.
You might want to start with Book 1 in the series, Reckless. Character and setting speed rapidly by here, and I needed the first book to sort it out.
Beyond that, both stories are top-notch magical adventures.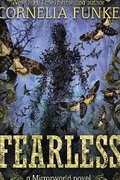 This one is strange among post-apocalypse fiction, in that it doesn't dwell on the apocalypse. It's more about the people involved therein. It digs into the characters, which is just unheard of.
And the ending! Leading into it, I almost threw the book across the room. Since it's an e-book, that would have busted my computer. But then Fregger throws a curveball, and fixes what I thought he broke. I don't frequently get honestly surprised at a book's ending. But this one did it. Good stuff.