My first experience with indie or alternative comics was while I was in college when a dear friend gave me a copy of
Clumsy
, one of Jeff Brown's first books. Autobiographical (autobio) books are flashpoints for many comics fans, you either love them or you hate them. I love the insight Brown brings to being a young person struggling with relationships and self awareness. I've seen many authors fail and come off as whiny or self pitying. Brown's adept use of humor makes his characters lovable and down to Earth. It's been a few years since Brown published an autobio comic and he's returned to it with his first full color nonfiction comic,
A Matter of Life
.
This newest installment of his life told in comics is the first glimpse that we get to see of him as a father. Brown's no longer a stumbling twentysomething, looking for love and tripping over himself in the process. He is now a fully realized adult, with big life questions from his toddler son and his own struggles to answer them.
I imagine that when people have children their first reaction is often to think about their own childhood and what their parents were like. Brown could have easily made this story about how he didn't enjoy his childhood, a forced participant in his family's church and struggling artist. While he is critical, as many of us are as adults, he tells his stories through the lens of acknowledgment of his own wants as a child; wanting to play instead of sitting still in church or wanting to meet girls in high school bible study. One of my favorite sequences is when Brown first realizes as a teenager he no longer believes in God. He imagines a tiny Jesus in his heart prowling around growling, since he no longer has "Jesus in his heart".
While often leaning towards neurotic when it comes to his own child, Oscar, he's portrayed himself as a very balanced parent. Brown is more worried about his child not having an open mind than forcing young Oscar to hold his same beliefs, as his parents did.
This is a wonderful new addition to the autobios of Jeffrey Brown and I would strongly encourage any fan (especially those with kids) to pick it up in June when it's released. Your local store should carry it if they have a healthy indie comic selection, or you can order at the link in the headline.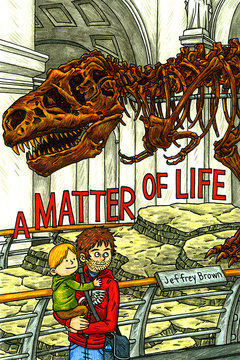 Saga Volume 1
Writer: Brian K. Vaughan / Artist: Fiona Staples/ Image
This is the first published trade of the highly acclaimed Saga series, and should be picked up by anyone who hasn't read the series yet. Brian K. Vaughan and Fiona Staples are an undeniably brilliant team and each issue keeps getting better and better. Saga is a sci-fi epic story with flares for fantasy and is centered around a new family stuck between an intergalactic war. If you're not the biggest space opera or epic fantasy fan, do not worry, you will still love this book.
Not for the timid or younger audience (seriously 18+ only), this series is pushing boundaries of storytelling and art with each issue. Volume one gives you a perfect taste of this perfectly realized world.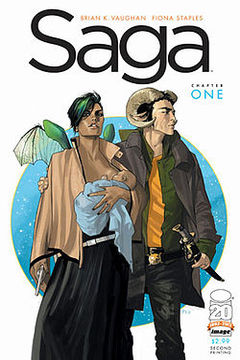 Batman: Death of the Family
Writers: Scott Snyder, Adam Glass, Kyle Higgins, John Layman, Scott Lobdell, Ann Nocenti, Gail Simone, Peter Tomasi, James Tynion IV / Artists: Greg Capullo, Eddy Barrows, Ed Benes, Brett Booth, Fernando Dagnino, Jason Fabok, Patrick Gleason, Jock, Timothy Green, Rafa Sandoval
With the New 52 reboot, DC fans knew that eventually the audience would be reintroduced to the Joker. The DC crossover event "Death of the Family" brings back the Joker in full force, playing up old story arcs and typical Joker tropes.
Here's a chronological list for folks who haven't been following the New 52 or don't have a pull list that includes, no kidding, Batman, Batgirl, Batman and Robin, Catwoman, Detective Comics, Nightwing, Red Hood and the Outlaws, Suicide Squad, and Teen Titans. Use the list to pull the single issues that connect the story, but I strongly encourage you to keep reading the series you like the most. I'm not a huge fan of crossovers (they can be tedious and confusing) but this crossover has made me fall in love with Detective Comics, Batgirl and Catwoman all over again. The Joker is dark in all the right places and while not every issues melds perfectly with one another, I couldn't wait for the next issue to be published.
Suggested Reading Order: Batman #13 / Batman and Robin #13 / Batman and Robin #14 / Suicide Squad #14 / Suicide Squad #15 / Batman #14 / Detective Comics #15 / Batgirl #14 / Batgirl #15 / Batgirl #16 / Batman #15 / Batman and Robin #15 / Batman and Robin #16 / Detective Comics #16 / Detective Comics #17 / Nightwing #15 / Nightwing #16 / Red Hood and The Outlaws #15 / Teen Titans #15 / Red Hood and The Outlaws #16 / Teen Titans #16 / Batman #16 / Batman #17
Crime Does Not Pay Archives Volume 4
Writers: Dick Wood, Lev Gleason / Artists: Rudy Palais, Charles Biro, Bob Q. Siegel, Richard "Dick" Briefer, R.W. Hall, Art Gates, Art Mann, Alan Mandel / Dark Horse
Part of me will always love a crime story no matter how corny or over the top. This book is only one of a larger series of collections of the 1940s-50s comic series Crime Does Not Pay collected by Dark Horse, the first true crime comic series and well known for violent tales.
The price is steep for a small collection of Golden Age comics (especially when they can be found for free online), but it's so much more enjoyable than say watching a rerun of Law and Order. This is a great collection to get back to comic book roots and for casual reading.
Plus, you have to love a story that uses the line "I'm going on the porch and brood."