Full Moon Features made some of our favorite movies in the 1960s, 1970s and 1980s, such as Trancers, Demonic Toys, and Puppet Master, during that wonderful time of freakishly awesome movies and giant videotape boxes.
Now they are putting those movies on the Internet, where fanatics can get to them without excavating the attic. Movies can be streamed for $4.99 a month. The movies can also be rented and bought digitally. The digital copies will be mine. All mine.
Some people call these kind of movies "bad." I call those people "dingleberries."
Each month the site adds four movies. The sweetness begins with a brand-new Full Moon movie, Ooga Booga, about a revenge-seeking doll, with Stacy Keach and The Exorcist's Karen Black. Our review of it is in a couple of paragraphs.
The first batch also includes Return of the Zombies, Legend of the Wolf Woman, and the appropriately titled Trauma.
The site is at Grindhouseflix.com, and it's an app on iTunes and Google Play.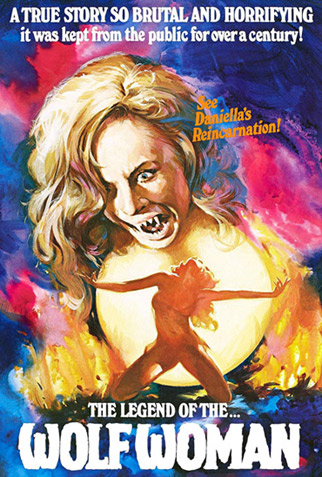 Ooga Booga
Starring Wade F. Wilson, Ciarra Carter, Gregory Niebel (Tywin Lannister from YouTube's School of Thrones — http://www.youtube.com/user/schoolofthrones ), Stacy Keach and Karen Black, & featuring Chance A. Rearden, reprising his role as Hambo from last year's
Zombies vs. Strippers
, also from Full Moon.
Devin, a young doctor-to-be (Wilson), is in the right place and the wrong color at the wrong time. He is gunned down as a killer, while trying to help the victim of a robbery-gone-bad, by a racist cop amusingly named Officer White (Niebel).
That's when things get weird. A random occurrence of magical science that would have filled Dr. Frankenstein with envy transfers Devin's consciousness into Ooga Booga, a prototype action figure given to him by his oldest friend, Hambo.
What follows seems true to the form, though I'm no expert; I've seen more parodies of blaxploitation than genuine examples.
Stacy Keach as the aggressively bigoted Judge Marks seemed underutilized at first, but in the end it was exactly enough.
Karen Black is A-MAY-ZING. As Mrs. Allardyce, the manager of a run-down trailer park who literally believes everything she sees on TV, she is easily my favorite part of the movie. The awkward flirtation between her and Officer White was over too soon. I ♥ her so hard.
The assault on the main character's girlfriend didn't disturb me, really; it wasn't depicted graphically, and I don't upset easily, anyway. What was notable was how immediately following the girlfriend's alley-rapin' by three cracker-dirtbag-tweakers, she has a sexy-sexy shower scene, complete with lingering boob shots and Al Green-style makeout music. She didn't seem any more put out by her experience than if she'd stepped in dog-poop. Maybe that kind of thing is a trope of the genre, in that it fueled her subsequent killing spree?
Special note: The Ooga Booga doll flogs the ol' dolphin while watching her shower. And smokes a giant spliff. So there's that.
The faux Kid Rock music playing in the tweakers' trailer is hilarious, if you listen to the lyrics. (I hate Kid Rock's music, so it was extra sweet for me.) Evil Whitey used racial epithets I forgot existed. You definitely wanted them dead before the movie was over, and to that end, you will get some satisfaction.
I've seen worse overall movies. I've seen worse from Full Moon, and Matt and I watched worse willingly when we were doing Cinema Destructo. 80 minutes of revenge-killing camp featuring forgettable music, outdated wardrobes, shallow black-and-white (pun maybe intended) characterization, unexpected redemption, and a 16-inch living racial stereotype complete with a bone through its nose.