For his first theatrical effort since 2008's Valkyrie, director Bryan Singer returns with the Saturday matinee popcorner Jack the Giant Slayer. Reminiscent of the best Ray Harryhausen fantasy films, the tale transcends its stereotypical genre trappings and predictable outcomes in delivering a fun, quality entertainment.
Combining elements from the fairy tales "Jack the Giant Killer" and "Jack and the Beanstalk," the familiar tale of Jack (Nicholas Hoult) trading livestock (a horse this time, rather than a cow) for magic beans leads to war between giants and men. A mishap involving the beanstalk enables the giants to kidnap the princess Isabelle (Eleanor Tomlinson). King Bramhwell (Ian McShane) sends a group that included the Captain of the his guard Elmont (Ewan McGregor), adviser Roderick (Stanley Tucci), Roderick's flunky the inept Wicke (Ewen Bremner), and Jack to rescue his daughter.
The largely consistent character portrayals mask for the most part the lack of depth or substance to any of the characters. None of the actors particularly shines or fails in their roles. Bad guys are bad and good guys good with no shades of gray. Not surprisingly, Singer infuses a welcome feminist streak within Isabelle, which is disappointingly discarded during the movie's climatic moment.
While things progress along expected lines, Singer and screenwriters Darren Lemke, Christopher McQuarrie, and Dan Studney liven things up with some humorous moments largely involving the giants, Wicke, and the King's clothing decisions. Gold armor looks ridiculous on anyone. While the giants offer some of the lighter moments, Singer avoids making them buffoons.
Creative fight scenes deliver some of the movie's most interesting moments. Thanks to the magnificent CGI, the terrifying size ratios add a level of realism. The largely bloodless encounters provide a nice change from typical 3D action films.
Despite running long (114 minutes) and the presence of a pointless, tacked on epilogue, the light-hearted Jack the Giant Slayer exceeds expectations, offering a delightful, family-friendly movie.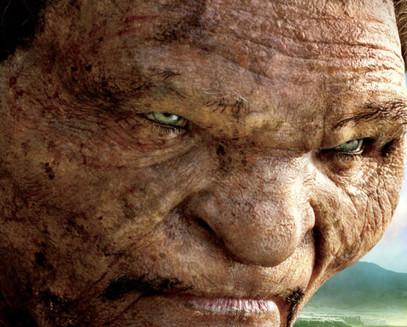 The movie's official site has plenty of Fumm.