End of the World is a Syfy original disaster flick, crammed with a flock of favorites, Neil Grayston from Eureka, Greg Grunberg from Heroes, Mark Hildreth from Pirates of the Caribbean, and Brad Dourif from everything.
A cosmic disturbance sends electrical blasts crashing into a sleepy town and vaporizing its residents. The heroes are video store clerks played by the lovable nebbish from Eureka, the cop from Heroes, and Cardinal Reginald from The Tudors.
The movie references fly furiously, providing a steady, silly dialogue track from disaster to disaster.
Brad Dourif is a thing of beauty, as a Doc Brown style scientist. He's so inspired by Doc Brown from Back to the Future that his character is named Dr. Brown. Grunberg and Grayston point out the reference, as respectable geeks must.
The disaster in the movie would be at home on any episode of Eureka. But the movie is really a satire of disaster movies, like Scream, with the characters talking about disaster movies while they're in one. Grayston even references other Syfy movies, while he's in a Syfy movie..
End of the World works because of the charm of the cast. In many sci-fi (and Syfy) movies, the effects are the stars. But the humans steal this one back.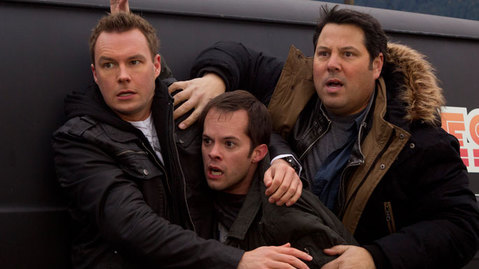 RevolutionSF Mini-Interview: Mark Hildreth
Mark Hildreth is awesome as Max in End of the World. He had time to give a few comments on his time on the new V series, and on filming End of the World in Vancouver. He has been a voice actor since age 10. He can be heard in tons of shows and video games, from Dragonball Z to Metal Gear Solid 4. He was in The Tudors, Pirates of the Caribbean: At World's End.
He's a musician: His second album Signs of Life is out now. Find out more at MarkHildreth.com.
About playing Joshua in the new V series: We were on that alien ship all the time. It was pretty much all special effects, for two years.
All you got was a couple actors, a table, and a tennis ball.
RevolutionSF: Let's talk about End of the World. The movie, not the actual one.
Mark Hildreth: That I don't know much about, and I hope to never find out.
As for the movie, it's a disaster movie, but flips it upside down. It's like Scream for disaster movies. The script is really funny.
We stumble around during the end of the world. It's like the Three Stooges in a disaster movie. We had a great time making it. They gave us liberty to improv. Greg Grunberg and Neil Grayston, those guys are very funny guys.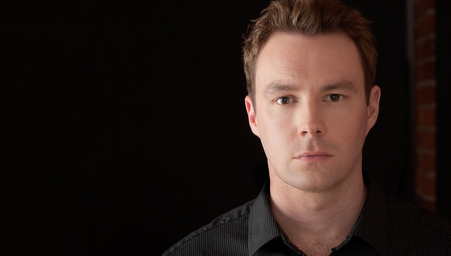 Photo by Marc Labrie.