JJ Abrams To Direct Star Wars Sequel, Ascend to Right Hand of Geek
Revolution News
© Joe Crowe
January 29, 2013

JJ Abrams is the director of the new Star Wars movie. The press release with all the knowledge is right here.
This led to an Internet meltdown which would only have been worse if the geekosphere disliked Abrams.
But the horde fussed anyway, about hoping he wouldn't bring over the lens flare from the new Star Trek movie he directed. That is precious. Star Trek used to have real things wrong with it.
Abrams is the best geek choice, since Joss Whedon is busy. But the prequels set the bar to such adequate heights, that even a satisfactory director would have been OK with me. New Star Wars chief Kathleen Kennedy didn't have to get Abrams. But I appreciate it.
Lucasfilm is shutting down the 3D re-releases of the remaining two prequel movies. Says so right here.
That is the Kessel Run not traveled. Prequel rereleases for every new format is where we would have been, if the Disney buyout didn't happen. But now we'll get new movies with new stories, instead of getting 5D prequel versions down-beamed into our brain-phones.
The crossover from Trek to Wars is unprecedented. It's just not done. Until George Takei did a voice on the Clone Wars cartoon, a grand total of one actor from any Star Trek had ever done anything in any Star Wars. And that was one guy in an Ewok movie who played Mr. Homm in Next Generation. (Carel Struycken, for your trivia pleasure. I accept your geek gratitude graciously.)
Abrams is still signed up to work on more Star Trek and one more Mission Impossible. He got two TV pilots lined up the same day the official press release went out. Abrams needs to take it easy. 19 years is the record to beat between sets of Star Wars movies.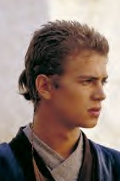 Farewell, sweet rat-tail.