Steampunk is a visual medium now; the name makes us think of brass and gears and goggles. Its roots are in books, and one of steampunk's originators, James Blaylock, returns it there with The Aylesford Skull.
The hero Langdon St. Ives has appeared before in other novels by Blaylock, but that's OK. This is a standalone story.
The book is very much New Pulp; it's a writer today, on purpose, writing like writers used to write. By that, I mean that navel-gazing and discussions about feelings will not be found. Aylesford Skull is a thrilling adventure, the kind that would have Thrilling Adventure! on the cover.
St. Ives is a British detective. He has a manservant, of course. He has an archenemy, of course. That archenemy steals every scene, of course. These are all good things.
The characters are fun and funny, and Blaylock embraces the mystery and the detective stuff unironically. That's good stuff.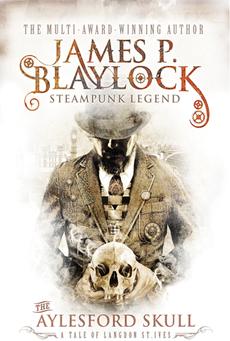 This article was posted as part of the Aylesford Skull Swashbuckling Blog Tour celebrating the release of James P. Blaylock's first full-length steampunk novel in twenty years [The Aylesford Skull, Titan Books, 7.99]. For the opportunity to win a limited edition of The Aylesford Skull in a jacketed, signed hardcover with a unique jacket design, just tweet "I would like a limited edition of the Aylesford Skull @TitanBooks #Blaylock".
Details about The Limited Edition available Feb. 2013:
750 signed and numbered editions: Jacketed, cloth-bound hardcover with ribbon.
Signed by James P. Blaylock
Exclusive foreword by K.W. Jeter and introduction by Tim Powers
26 signed and lettered editions: As above encased in a custom-made traycase.