Centaur of the Crime by Michael Angel is a cross-world fantasy novel. On the one side, you have the backdrop of Los Angeles, and on the other you have a magical realm with kingdoms, griffons, gentle magical deer, owl accountants, separated from our own world by a dimensional gateway.
And Dayna Crissie, an LAPD forensics technician, is needed on the other side.
This is a novel that combines two of my favorite literary genres; fantasy and police procedurals, focused on something virtually universal amongst the myriad worlds -- Murder Most Foul (tm).
One note up front -- there is no sturm und drang here. While serious matters are underway, this book is not filled with angst. I won't go so far as to call it the feel-good novel of the year, but it contains a plethora of humorous bits. Some of the humor works (like the Quetzacoatl mural joke), and some fall utterly flat (The "Irish cop" joke, but in Los Angeles). Comedy writing is harder than you think. TV sitcoms notwithstanding.
The narrative of the story flows well, told in the first person, and unlike other recent reads, the protagonist's litany of good-natured grousing and cynical observations make her both accessible and likeable. The more you read about Dayna Crissie, the more likeable she is, which makes the myriad travails so much more enjoyable to read.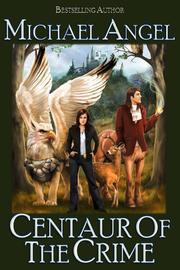 There are any number of places a reader determined to be hyper-critical could find fault; all the people speak English, for example. The fantasy realm has magic, and we have technology, but the magic is just as effective in our world as it is in theirs.
It's somewhat unbelievable that mages of the fantasy realm have known about our world for some time, but have persisted in a "read-only" manner (until they borrow some tech to commit murder). Truth be told, that is, upon analysis, the weakest part of the plot itself. If you've ever been near a body at a crime scene, you'll sympathize more with McClatchy for his use of Vick's Vapor Rub than Dayna's annoyance at it. As a Duke, Kajari should be addressed as "Your Grace".
That said, none of its fallacies and problems are intrusive enough that a reader familiar enough with real murder investigations, or the intricacies of medieval life (hello, SCA en masse!), or even such esoterica as Philip Jose Farmer's analysis of the biological feasibility of centaur biology will escape being drawn into the sheer fun of the story; in that way it is like one of the Die Hard movies: so much fun and moves at such a good clip that such criticisms only pop up after you're done with the book.
While you're reading it, it's too much fun to bother. Pull up a comfy chair, microwave an emergency stash of taquitos, grab a magnum bottle of Diet Dr. Pepper, and enjoy!
Besides, the story has griffons in it. Any criticism is thereby refuted!
I confess to beginning this novel with a small, prejudicial disappointment. Having read another of Angel's books (also a cross-realm book that moved between Los Angeles and a fantasy realm) and thoroughly enjoyed it, I hoped this was a sequel, or at least set in the same continuity, as
Centaur of the Crime
. However, it swiftly became apparent that there was no relation between the two books, and hence my disappointment.
It didn't last long. One of the strengths of a Michael Angel story seems to be a depth of his characters and dialogue, which tie the reader into the storyline with bindings of silken steel. His stories are not something you want to start half an hour before bedtime; in both cases I was unable (or perhaps unwilling) to put the books down. Start just before bedtime, and you will have a sleepless night.
I enjoyed this story more than the previous, to which I gave high marks. There is less overt humor in this story, although there still is some malingering in the background (and perhaps more effective for it), but the story rockets along at a nice pace. The characters do not develop slowly, as there is no time for it, but they are well-rounded people. I envy the author's ability juggle a diverse cast effectively and sympathetically, even the antagonists.
Elements of both worlds leak through, in reasonably clever ways, and the explanations of the (forgive the word) algorithms of the schools of magic is well-thought out and explained without reaching Tolkien-esque levels of tedious exposition.
Angel is not parsimious with words, but neither is he overly flowery or pedantic; like his skills at pacing and characterization, he has a deft touch.
The climax of the book (for me) was the denouement of the characters after the combat is over. When I turned the last page I had tears in my eyes, with no nearby onions for an excuse, which should tell you the depth the characterizations managed in what appeared to be such a short time. I wanted more, but fortunately the dimensional gateway between worlds still works. I cannot conceive that the author will refuse to provide us with a sequel.
He'd better. Fair warning to Mr. Angel -- that's a nice little fantasy world you've developed there, bud .†.†. it would be a shame if something were to happen to it.
No griffon this time (yeah, I know -- unicorns and pegasi, but itís not nearly the same). I shall now sulk piteously!