Book Probe finds e-books and physical books that will make good reading for yourself or gifts for someone else. It's true. Links to buy are in the titles.
46 volumes.
An enormous collection in leather-bound volumes. It's authorized by the Heinlein Trust. It includes never-published correspondence and unlimited access to the online Heinlein archives.
It's $1,500. That's in American dollars. But wow. Heinlein collectors and fans will go nut-bonkers over this. Mention RevolutionSF.com when you order and we'll be pretty excited, too.
For more about the collection, go to the Virginia Edition site.
Here's a free look at a PDF sample of the collection.

Toni Carr combined her nerdiness and her knitting and the result is this book. The designs include Hobbit foot slippers, a scarf for Jayne from
Firefly
, Mr. Nancy's hat and gloves from Neil Gaiman's
Anansi Boys
, Penny's gloves from
Dr. Horrible
, a
Next Generation
style sweater, and Raj's sweater vests from
Big Bang Theory
. That's not all of them. Those just jumped out at me during riffling the pages.
Knits for Nerds is designed for the knitting practitioner. It includes detailed knitting instructions that might as well be written in Sudoku, because I can't decipher any of it.
If you are not into knitting, this is a fun picture book.
Toni Carr says this is her "gushy love letter to the nerd community." You can feel that feeling while you're jabbing yourself accidentally with those giant knitting needes.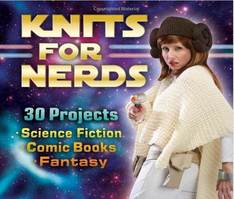 This is a CD by rock band Chasing Mars. I'm putting it here because you should listen to it while you read, write, or knit Raj's sweater.
Chasing Mars's ballads are easy on the ears, and the production sounds like it's a guy at a tiny club, which clearly is on purpose. That's a fun choice, and I dig it.
The ballads grew on me. But my favorite song is "Cryptoamnesia," which rocks electronically in the best 80s way.