Book Probe quests for good books of geeky persuasion, in physical or e-form, so you can enjoy and thank us later.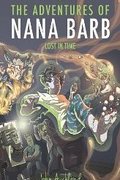 How far in time was she? If robots were capable of suspicion, she didn't want to arouse his.
I get the same feeling from reading this as from Hitchhiker's Guide or from watching Hot Fuzz. The premise is just one line. It's about a grandma who time travels. You want to read that. Everyone does. Beyond that one joke, the book still works, because it's not just a comedy sketch; it's an adventure story where goofy things happen.
The narrators reveal that they are gods. They literally are omniscient narrators. Omniscient narration is a literary term that I've never seen anyone make fun of before. How did it slip through, all this time?
Nana Barb is just precious. It's crammed with pop culture, sci-fi, and smarty-pants.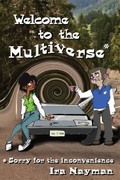 WELCOME TO THE MULTIVERSE (Sorry for the inconvenience)
is a clever book, make no mistake. Actually, that is its mistake; it's too clever my half.
The author seems to want to capture the same style and whimsy that make Neil Gaiman and Terry Pratchett such joys to read, but the author tries too hard. The sentences are long and complex, and twist and turn like an epileptic snake, sometimes losing the narrative (and when he doesn't lose the narrative, it's not for the lack of trying).
I think this is what the Emperor of Austria meant in the movie Amadeus when he said that Mozart's music had "too many notes".
The author continues this bombardment of bombast through the whole book. The narrative itself is excessively digressive, and peppered with asides that distract from whatever the narrative is supposed to be. Characterization? Buried under a metric ton of nonsensical pop cultural references. Cohesive narrative? Why bother, when each paragraph spins itself of on a tangent.
This story reminded me of a stereotype SF convention geek sitting in the bar trying to impress his female counterparts with his intelligence, his volume of knowledge, his vocabulary, and his deep immersion into the SF/Fantasy sub-culture. The style of the work is at once both overbearing and off-putting, and has no hook beyond trying to establish how alpha-geeky the author is -- and to an audience, he's no more likely to be any more successful then the guy in the bar. -- David Medinnus