Trailer Probe calculates the total nerdy enjoyment in nerd related movie trailers. Dork disengagement level is why you might not love it. Geek explosion content is reasons you will go nut-bonkers for it.
Dork disengagement level:
How much foreshadowing of
Wizard of Oz
will be too much? We know this guy turns into the fart-head Dorothy meets in
Wizard of Oz
. But I do not want movie to dump its whole story at the end, just to hastily line up with the original.
Is this Wicked?
If no one sings "Defying Gravity" I will demand that someone puh -- puh -- put 'em up.
Geek explosion content: Sam Raimi is in charge and that is good. But never mind that: this movie has a talking monkey. TALKING MONKEY.
James Franco puts on Steampunk Goggles.
This movie looks so pretty. Poppies! Poppies! Poppies!
Nerd saturation level: 900,000 parts per billion.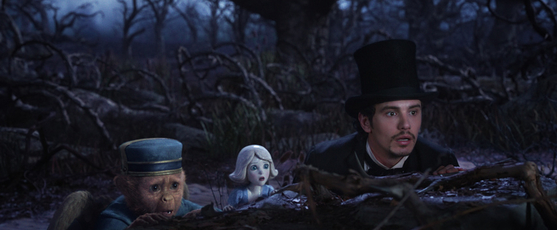 Callback to the original Wizard of Oz number 1 of probably a zillion. But I don't care! Yay! Wizard of Oz!