Book Probe: Ecko Rising, Rock Band Fights Evil, Nancy Kress, Lovecraft Bio
Reviewed by Joe Crowe, © 2012

Book Probe finds new geek-related books, so you can enjoy your free time more wisely. Links to buy are in the title. Thank us later.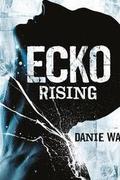 "He'd killed one person already. He was stinking and tired and filthy and he itched. He'd had about enough."
Ecko Rising is grimy and crazy, and so action-centric, it should have an explosion on every page. It's crammed with sci-fi cuss words, real cuss words, monsters, and violence. In other words: Buy me.
The Mongoliad is two books (so far) about warrior monks resisting the Mongol invasion in the 13th century. It's crammed with stories by a horde that includes Greg Bear and Neal Stephenson. Book 2 includes art by comic book awesomeness-purveyor Mike Grell.
I wanted to eat a steak while I read it, but my greasy fingers would have blotted the book pages or insulted my Kindle.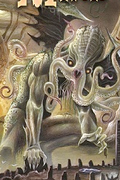 H.P. Lovecraft's work on freaky monsters and weird cosmology has been examined and discovered more than Lovecraft himself. This book talks about the man, with a fair amount of success.
Lovecraft's life history is documented here in the way that a cable-TV biography would do it; with ominous portents and dramatic tone. That's an appropriate and effective way to do it. It also throws me off, in a good way, because I'm not used to hearing about Lovecraft from outside the fan bubble, from an unbiased source.
The writer makes some arguments weak, by talking about what "might" have influenced Lovecraft. I would have preferred a definite opinion. It's your book. Make your case.
Lovecraft is an odd bird. What he inspired is far more fun than he is. A Haunted Mind takes an interesting whack at him.
Cream by Dave Dumanis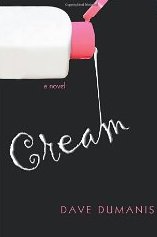 This reminds me of the TV show Amazing Stories; it's fun, smart, and succinct, a sci-fi story based entirely in one sentence: anti-aging makeup cream really does what it claims.
The action is broken up by cutaways that are hilarious. One is by a skin cell, one is by the city of Chicago, another is by a rabbit ("I'm a nice, pleasant enough bunny that likes to keep to myself and munch carrots.")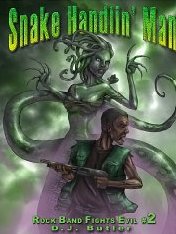 "He retreated back over a chair, rising to the top of the chair back to stab down at the creature's face and then tipping heel-first gracefully to the ground, to then hook the toe of his boot into the ladder of the chair's back and snap-kick it into the lizardlike face."
I have only read two of these. Now I have to read all of them.
Rock Band Fights Evil is an e-book series stuffed with bombastic action, violence, and a stern desire not to take itself seriously. The four-word title is worth a purchase alone. Rock Band Fights Evil is a 1980s action flick in print.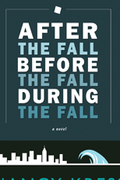 After the Fall Before the Fall During the Fall is a combo of time travel and apocalypse story. The story bounces between the past as the apocalypse approaches, and the future where it's already happened.
The parts in the past march toward the apocalypse relentlessly. Meanwhile, the future parts aren't a picnic.
The story threw me off-balance, at the very beginning: survivors go back in time to steal healthy children, so they can repopulate the planet in the future. That's the first chapter of the book. And these are the good guys.
This one is just no fun, and I mean that in a good way.