Zombie Cat: The Tale of a Decomposing Kitty is a parody of a kids' picture book, and it's also an homage to kids' picture books.
Zombie fans have plenty of every kind of merchandise to gorge themselves on. I recommend adding this to your hoard. Zombie stories are not known for touching endings or sweetness. But this one has both.
I knew this was a winner when an exploding nuclear reactor was on page 2. The story goes over the top and stays there, as the cat's owner sews up the rotting corpse of his undead kitty.
Another possible gift recipient for this book is the cat fancier. They love kitties and have convinced themselves that cats are decent, loving creatures.
It's fun enough to watch the reaction of those folks when they see the Monty Python and the Holy Grail scene when someone bangs a gong with a cat.
So imagine your joy when they open your gift, full of guts, cat parts, and feline gore.
Zombie Cat is gross and disgusting. You will love it.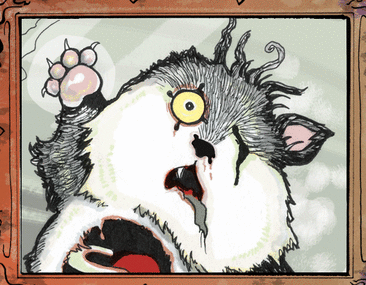 Buy Zombie Cat right here, and follow Zombie Cat on Twitter at @zombiecat2012.