Schwarzenegger Plays Conan Again, Laughs From His Mountain Like Crom
Revolution News
© Joe Crowe (@revolutionsf)
October 29, 2012

Arnold Schwarzenegger's Conan the Barbarian movie ended in 1983 with the quote by Mako: "He became a king by his own hand. And this story shall also be told." He was right: Schwarzenegger is playing Conan again in a new movie, Legend of Conan.
Here's the news story, so you don't believe I am an infidel who will drown in lakes of blood.
Here is RevolutionSF Conan expert Mark Finn's review of the 2011 Conan movie.
Momoa dug playing Conan, as I mentioned in this story about how to pronounce Conan.
The producers of Jason Momoa's Conan the Barbarian are involved, but Momoa is not. But if you're doing King Conan, or Not Young Conan, you don't want any old guy. You want Schwarzenegger, and here he is. Morgan said this movie is "Conan's Unforgiven," referencing the Clint Eastwood retired gunfighter movie.
The producer is Chris Morgan, who does the Fast and Furious movies. Morgan said his movie skips over Conan the Destroyer, and Jason Momoa's movie. Really: he wants to skip over the movie where Conan punches a camel. Already my hopes diminish.
No decision has been made on whether the movie will be R-rated. I am further nonplussed. That's the first thing I would have decided on. Get to work, people!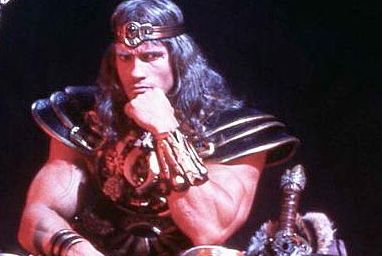 He's pondering the riddle of steel. Duh.