Trailer Probe calculates the total nerdy enjoyment in nerd related movie trailers. Dork disengagement level is why you might not love it. Geek explosion content is reasons you will go nut-bonkers for it.
Dork disengagement level:
Without Ash, this is just a horror flick. That's my worry. The first
Evil Dead
is only a little Ashy.
Evil Dead 2
and
Army of Darkness
is where Bruce Campbell achieved full Bruce Campbellism.
So I give credit that they're trying to do something new that doesn't include Bruce Campbell or a fancy lad from a CW show playing Ash.
However, taking out the best part and leaving in the least interesting part is not a selling point.
Geek explosion content: The effects are new, shiny, and nicely gory.
The best part here are remakes of the first movie's stuff. My favorite is the fast POV shot of the monster rushing through the woods, straight out of the first movie.
All-new Necronomicon!
Dudes. The message clearly said not to read from the book.
And there's the Deadite-possessed hand. Wheeee!
I bet this is the movie Sam Raimi and his folks wanted the original to be, but had no money back then. They have earned my money.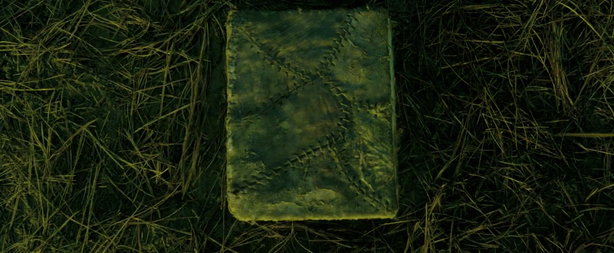 All-new Necronomicon!
Geek parts per billion: 700 million parts per billion.