Manimal is Coming Back; Fixing 30 Years of Cancellation Induced Heartbreak
Revolution News
© Joe Crowe
October 18, 2012

Manimal is a quickly canceled sci-fi TV show from 1983, in which only eight sweet episodes aired.
It was about a playboy college professor who helped police and turned into animals. So simple. So elegant. In the very first episode he said, "This spider was murdered!"
Since then it has risen above all quickly canceled sci-fi TV shows, as far as I am concerned. And now it is primed for a comeback.
I never thought this day would come. I have no words.
Here is the press release, in case you assumed I was a filthy liar, or this news was a glorious daydream, or both.
These people discovered what I have known many years: Manimal is the awesomest.
Or they figured they could make a quick buck, which would be more than the show made in 1983. Either way is fine with me.
The press release says "Sony is out to writers for a take on Manimal." I have a take on it, but I'm not sure they would buy a script that includes the paragraph "Oh Lord Manimal totally rules! Oh this is so great! I'm writing a Manimal script!"
The press release says it will be a "live action / CG film." But the fun of Manimal were the practical effects transformation sequences. So the CGI will not be as cool.
But I choose to revel, not to pout. Pouting is for non-fans of Manimal.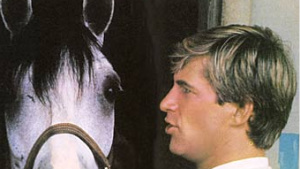 Manimal, just horsing around.