Book Probe: Mute, Vs. Nurture, Oblivion Chronicles
Reviewed by Joe Crowe, @revolutionsf, © 2012

Book Probe finds new books for you to buy physically, download, or e-read, so you can enjoy your free time more wisely. Links to get 'em are in the titles. Thank us later.
Mute by Bryan Bandell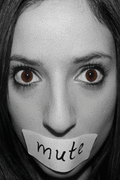 I need to understand this better before I declare a full-blown emergency. Itís one purple bump on one turtle.Ē
Mute is about a detective who befriends a child who can't speak, and serial killings that happen near an ocean. It starts out as crime drama, then turns into an adventure on an alien world. Here's how much of it is crime drama: The alien world shows up in chapter 48, and the segue is perfectly done. The book is only 176 pages, but it is crammed full.
The orphan kid made me well up. There, I admit it. Most of the time you hate the Creepy Child in stories, but this one is adorable.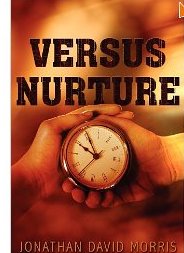 "Bacteria in the ocean, elephants in Africa ó if Andrew Christopher pushes this button, itíll suck the life out of everything everywhere.Ē
Vs. Nurture is a thriller about a husband and wife who discover their future child will destroy the world. Or maybe he won't. Time travel and the apocalypse ensue.
So, this isn't the typical relationship drama, or family coming-of-age story. Parents will be able to relate to fears that their kids will grow up to blow up New York. We've all been there.
"Bacteria in the ocean, elephants in Africa ó if Andrew Christopher pushes this bu􀀯on, itíll suck the life out of everything everywhere.Ē
Oblivion Chronicles is about a guy who discovers his destiny in a fight against a super-villain alongside other heroes. It's a cliche-bound super-power action novel. That is a compliment.
You've seen this before. But you've seen a pepperoni pizza before, and you keep coming back to that.
I would have put in more commas. Other than that, this is a satisfying, over-the-top superhero story with fighting, and stuff blowing up. When you want that stuff, Oblivion Chronicles has it.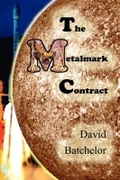 "My biochemistry is so different from yours that we can't possibly have any pathogens in common. And I'll arrive thoroughly decontaminated nonetheless. This is going to be fun!"
The Metalmark Contract is a sci-fi adventure book about first contact with an alien. It's a blend of sci-fi with civics, as a benevolent humanoid takes the world stage and promises good stuff if Earth helps him out. Naturally, hijinks ensue.
The fun part is this isn't a bleak Day the Earth Stood Still story. Metalmark is smart and friendly, not emotionless or naive. Metalmark is a captivating character, the kind frequently missing when a writer has a Big SF Idea. This is good stuff.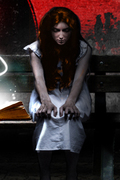 "With heads the shape of magnificent stallions, these were obviously animals that were perfectly built for precise underwater travel. Their impressive front flanks were adorned with plates of pearl armour."
This is really short, 70-something pages. A guy searches for his missing lady-friend, and ends up fighting monsters.
Some good drama and intense action lies herein, but a missing comma almost robbed me of my joy. I will try to let it go. (It was supposed to say, "Stop, you fools," but instead said "Stop you fools." Maybe the speaker was talking to himself.)
An Act of Violence is a humdrum title that disguises a fast-moving fantasy adventure.
This anthology of horror and weirdness goes off the charts in the first story. It's not so much scary as it is
freaking disturbing.
I mean that in a good way.
One of the stories, "Wonder," first appeared here on RevolutionSF. Now it's in a physical book (or e-book).
My favorite story is "Jonathan, When Are You Going To Settle Down, Get Married, and Have Us Some Children?" It is just disgusting. I mean that in the best possible way.
This is 36 pages, and you'll wish there were more. It's about a geneticist who works for a drug lord. Naturally, that's not the most pleasant work environment. This one is worth the quick read. It has science gone awry and a hero in jeopardy.
Also: mutant bats.