Agent Coulson from the Avengers movie is alive, and his actor Clark Gregg is the star of a live-action SHIELD TV series for next season.
That's a lot to take in. I understand. Just take it slow. Here is Marvel's news about that.
Avengers director Joss Whedon is directing the next Avengers movie and will be a head honcho on Marvel's live-action TV series. The SHIELD series will be written by the writers from Dr. Horrible's Sing-Along Blog. It'll star non-superhero agents in the Marvel movie universe, but on TV.
Here's the official story about that.
Joss Whedon + Dr. Horrible writing + superhero TV show. These are three things we enjoy, but we have not yet enjoyed them all at once.
Whedon has set the bar higher, and not in the usual way by suddenly killing someone we love.
He did the opposite: Agent Coulson is alive, and will star in the SHIELD TV series.
SPOILER ALERT! I should have spoiler alerted you that Coulson died in the Avengers movie. You should totally see it. It has Hulk.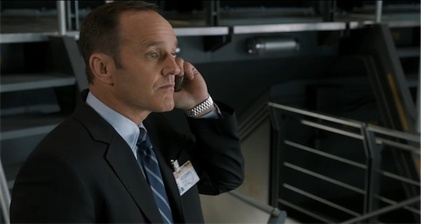 Somebody call my mama.
But let's look at this from all sides.
Reasons Why Coulson And a SHIELD TV Show Will Not Be Awesome
10. Will disappoint viewers who think Michael Chiklis and
The Shield
is coming back.
9. Will take up one hour of our week formerly devoted to Cupcake Wars.
8. Distracts Whedon further from telling what happened on the last episode of Angel.
7. Distracts Whedon further from Buffy comic books, where drawings kind of look like actors did 10 years ago.
6. Distracts us from waiting on friend request response from Nicholas Brendan.
5. Makes us long to watch the Avengers movie again, for 30 long seconds it takes us to start up the DVD.
4. Will only come on once a week, leaving other 6 days meaningless and hollow.
3. One hour less to catalog SeaQuest DSV memorabilia.
2. Dashes hopes for New Adventures of Old Christine reunion.
1. More characters for Whedon to kill.