"Worst nickname ever." -- Oliver Queen's sister, "Speedy"
Green Arrow was on Smallville for years, clearly because they could not use Batman. Then the CW signs up a Green Arrow TV show, and they don't use the guy who played him on Smallville. Characters on the show don't even call him "Green Arrow." They don't call him anything. But he wears green, and he uses arrows.
Other than that, the show is pretty good.
It leans heavily on his comic book origin; he's a spoiled rich kid who rejects his spoilage when he's marooned on an island and learns to use arrows.
In the island scenes, I hope that was a stunt beard, because if not, actor Stephen Arnell should never be allowed to grow a real one. It appears to be a yellow wire brush glued to his face.
The show is seasoned adequately with comic book references, but it won't alienate the non -- Green Arrow fans. They might not even notice.
The first episode ends with a shock, and changes what I thought was the entire course of the series, before the first episode is over.
The Green Arrow guy is all buffed out, which is good since he's shirtless for much of the first episode.
Black Canary is the female lead, but she's not a superhero, yet. She's called "Dinah" once and Laurel the rest of the time. She's a lawyer, which is a significant upgrade from the comics, where she owns a flower shop.
Another upside is her father is Paul Blackthorne, who was awesome as Dresden on Dresden Files.
The best scene is the training montage, in which he does a crazy weight-lifting trick, where he jerks a pull-up bar to the next highest bracket, while hanging off it. All in one camera shot.
If that wasn't a stuntman, everyone should pay Stephen Arnell their gym membership fees, because he owns it.
I wonder how many shots it took to get it right.
Did he ever get to the eighth one and just start crying?
"Take 37 and . . . cut ! Stephen's arms just fell off."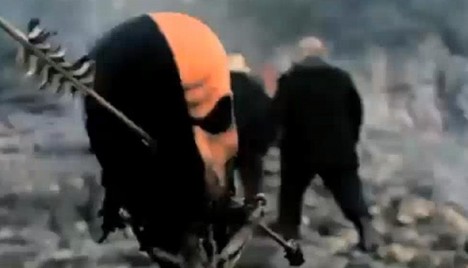 The comic book nerdiest screen-capture I could find from the premiere. Wheeee! It's Deathstroke the Terminator's mask!