This Book Is Full Of Spiders (Seriously Dude Don't Touch It) is the sequel to John Dies At The End., which not too long ago slithered from the depths of the Internet to a couple of different editions with adventures of Dave and John, slackers that get supernatural abilities.
John Dies at the End is an insane carnival of a book, the kind that shows you a wild time and leaves you standing by the exit gate, something stuck to your shoe and a half eaten funnel cake in one hand, your clothes littered with stripper pixie dust thinking, "I'm not one hundred percent certain how I got here but it was a hell of a time." You really should go and get a copy of it and give it a read. Check out our RevolutionSF review.
This Book Is Full of Spiders is the big ride at that aforementioned carnival, the one you eyeballed from the parking lot and waited in line for an hour to get on. People were raving about it at the fair, then when you got strapped into place and the ride took off, you found out it was even better than you expected.
So, writer David Wong (aka Jason Pargin) is two for two on the scorecard.
Spiders follows Dave, John, Amy and their very good dog Molly on their adventures in the unpleasant town of [Undisclosed]. Molly describes it this way: "The adventures of Molly the dog while her human Meatsmell and his friends John and Amy run around and do things.""
Usually John and Dave deal with single shot supernatural suckage. A dimensional portal here, a ghost of a fry cook there, just business as usual in [Undisclosed]. Now they enter the big leagues, Zombie Armageddon or something even worse.
The book wastes little time setting things up. Readers get a bit more history on the town of [Undisclosed] and some updates on the activities of the heroes since John Dies At The End. After a run in with a caravan of black SUVs crewed apparently by G.I. Joes, and a run-in with a chihuahua sized alien spider, the book is off and running.
Writer Jason Pargin crafts a nice balance between horror, comedy and some real world pathos. He has a deft touch in dealing with serious issues such as public media manipulation and drinking problems.
The ending is particularly bittersweet. I look forward to more tales of [Undisclosed] in the future.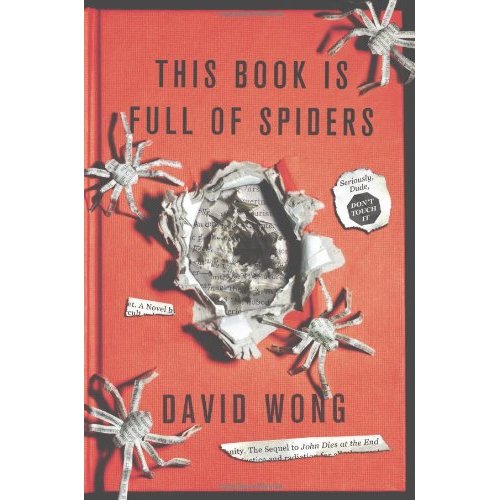 Do yourself a favor. Get this book.