You need more sci-fi books for your Kindle and Kindle-ish e-readers. Book Probe is here to help.
As genre fans we sometimes come up against the phrase "suspension of disbelief." This means to me that you need sometimes need to just let stuff roll over you without thinking too much about it.
As an example, I went off James Bond films towards the latter part of Roger Moore's tenure because they were just silly: everything happened to Bond and he escaped with a smile and without a scratch just too often for me to care about him. On the opposite end of the spectrum you have John McClane from Die Hard. He gets hurt. He gets angry and ticked-off at things. When he escapes by the skin of his teeth you don't suspend disbelief at what he does, you invest belief into his feats of daring because they don't always pay off (I realize this analogy falls apart when faced with Die Hard 4.0 but you get my drift. Hopefully).
Void Star is a fast-paced, action-packed, old-school space adventure. It bolts out of the gates at speed then amps the speed all the way up to 11. How fast? Well, in the first fifty pages there's a chase that culminates in a space battle and the destruction of a planet.
And it gets faster from there, with occasional breaks to discuss philosophy. If you can only read while perched on the very edge of your seat you will love Void Star.
To break it down a little more, it is the story of Trevor and his uncle Nathan, who cruise the spaceways freighting whatever passengers and cargo they can get. Then they discover a dying alien, Dosh, who imparts a great secret to them with his dying breath. They find themselves on the run, trying to solve the mystery of what the secret means and why everyone else in the universe would kill them to find it out.
As a piece of space opera, Void Star succeeds admirably. The characters have enough depth, motivation and history to keep you interested in them. The story is intriguing beyond a chase/ quest tale and the characters live in a setting that you can invest belief in, provided that you don't look too carefully at the curtains and the man behind them.
And that's the problem I had with it. I am not a scientist, but I am confident that shutting off your spaceship then turning it back on again is not an effective defense against an electromagnetic pulse.
I do not believe that a planet could be destroyed by an ultimate weapon and be escaped from quite as promptly as our heroes managed. These are not spoilers: they come from the first fifty pages I mentioned above so please don't feel that I'm ruining this yarn for you.
The rest of the story is filled with similar acts of derring-do and dodgy physics which makes you constantly stop and think, "Did I just read that right?"
I wanted to enjoy Void Star in the same way that J. P. Yager has clearly enjoyed earlier works such as Star Wars and Firefly but that whole suspension of disbelief thingy kept daring me to look away from the page. Yager needs to work on his investment of belief a little more, but he tells a cracking yarn.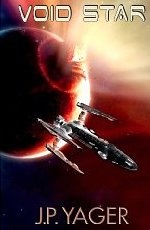 Buy Void Star right here.